In this review of Seeking Alpha, we will share our experiences with this popular stock research platform.
We have been members of the Seeking Alpha free service since 2010.
And in 2020 we signed up for one of their Premium subscriptions so we could review it and share our experiences with you.
In this Seeking Alpha Review, we will show you what you get for free, what the benefits are of becoming a Premium user, and we will share our results with their newer Alpha Picks service which tells you which 2 stocks each month are rated the best.
Most importantly, we will reveal the most important fact about Seeking Alpha: Does it help you make money in the stock market? (Our short answer is YES, if you use it the way we do!)
What Is Seeking Alpha?
Seeking Alpha is an investing research platform started in 2004 by financial analyst David Jackson.
The original concept was simple: let investors that are passionate about the stock market share their own stock analysis and debate the merits of each stock so they can become more informed investors.
They now call themselves "the world's largest investing community."
About Seeking Alpha
The word "alpha" in stock market terms is the excess return you get versus a benchmark. So, since everyone wants to beat the SP500, everyone is "seeking alpha" even though they don't realize it.
Seeking Alpha now has over 20 million users each month and contains research and ideas crowdsourced from its users.
The goal of seeking Alpha is to help fundamental investors share and find new ideas while connecting with other investors.
Once you register as a free member, you can follow all the published analysis and commentary on your selected stocks; or you can choose to follow certain authors.
They have over 7,000 active authors who publish 10,000 stock analysis and ideas monthly.
Seeking Alpha has also developed its own quantitative algorithm that ranks stocks.
If you become a Premium subscriber you will have access to this "quant" rating and other ratings as well.
Is their quant rating worth paying for?
Seeking Alpha STRONG BUY Quant Rating
They claim their top rated stocks are beating the market by 4x.
Seeking Alpha says their "Strong Buy" ranked stocks have a total return of 1,754% compared to the S&P 500 return of 385%.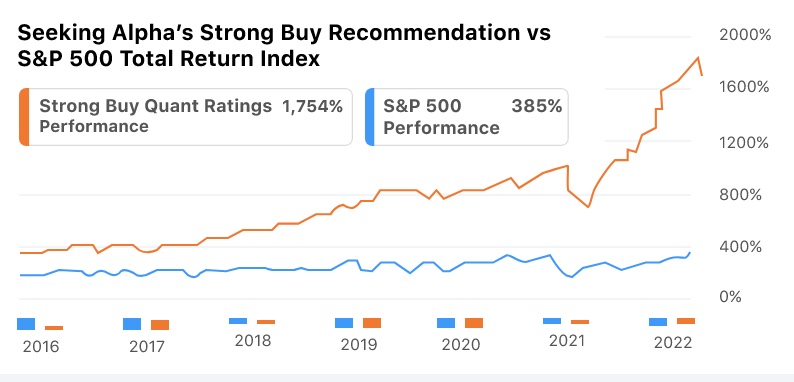 Keep reading below for more information on this impressive statistic.
Their name, Seeking Alpha, refers to the finance term "alpha" or ɑ.
Alpha represents the excess return of an investment compared to its benchmark.
In other words, it represents how much better a portfolio manager is at picking stocks as opposed to throwing darts.
All investors seek alpha so that their portfolio can beat the market!
So, What Is Crowdsourcing?
Simply put, crowdsourcing is a method of getting information or labor from a large, open pool of people, usually on the internet.
Seeking Alpha obtains much of its research from individual users just like you, making it a place where truly anyone can be a part of the investing conversation.
---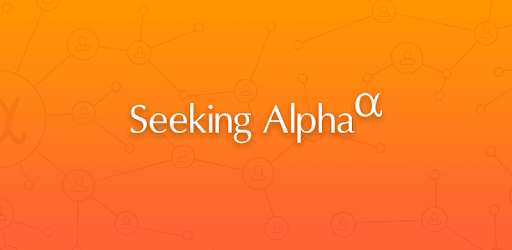 SEEKING ALPHA SUMMARY
What You Get:
Over 10,000 Stock Research Articles per Month
Professional Stock Ratings
Listen to Earnings Calls and Read Transcripts
Support Phone at 1-347-509-6837
VERIFIED Performance History:
STRONG BUY ranked stocks have beaten the S&P 500 by almost 1400%
Strong Sell ranked stocks have underperformed the S&P 500 by over 300%
Seeking Alpha Pricing:
---
Seeking Alpha Editorial Review
Don't worry, though: Seeking Alpha puts articles submitted on its platform through a rigorous editorial review process before they can be published.
Here are the main tenets of the editorial review process:
Articles must interest Seeking Alpha's readership.
Articles must conform to Seeking Alpha's standards of rigor and clarity.
Articles about a stock trading at less than $1 or with a market cap below $100 million will see extra scrutiny but are still eligible for publication.
The author must agree in writing to Seeking Alpha's disclosure standards.
Their recent stats indicate 7,000 active authors and 10,000 articles are approved monthly.
Seeking Alpha also only accepts articles from credible authors and requires the authors to disclose if they have a position in the particular stock they're writing about, so you can be assured that there aren't any conflicts of interest!
You can see an author's track record of predictions and analysis and use that to decide whether to follow them or not.
You can also just look up the Top Authors and go from there!
Quick Summary: Is Seeking Alpha Worth it?
With a Premium subscription, you get access to their "Quant Rating" in which their "Strong Buy" ratings are up 1,754% compared to the market's 385% since 2010.
On the other extreme, their "Strong Sell" rated stocks are only up 156%.
That means that Seeking Alpha's best picks have beaten the market by over 1300% and their bearish recommendations have underperformed the market by over 200%.
So we never buy a stock without viewing their Quant Rating!
Seeking Alpha Membership Plans
The Seeking Alpha memberships are FREE, PREMIUM, and ALPHA PICKS. Each is outlined below.
The Basic is the FREE plan and the Premium is their most popular. But their Alpha Picks service, launched in July 2022, is off to a great start.
But the pricing displayed is a bit tricky, so let us explain:
The price for the Premium membership is $239 a year, with the first two weeks FREE.
You can cancel the Premium at anytime and get your fee refunded pro-rata; so by all means try it.

Notice with the Basic or free plan you only get access to Wall Street Ratings for every stock.
With the Premium plan, you get the Wall Street Ratings but you also get both the Seeking Alpha Author ratings and the Seeking Alpha Quant Ratings. THIS is what you want!
Keep reading to learn the details of each and see how to use their quant ratings to improve your stock selections.
Seeking Alpha Features
Apart from discovering new investing ideas and keeping up with your favorite Seeking Alpha authors, here are some of the other features offered by the platform.
Top Rated Stocks Screener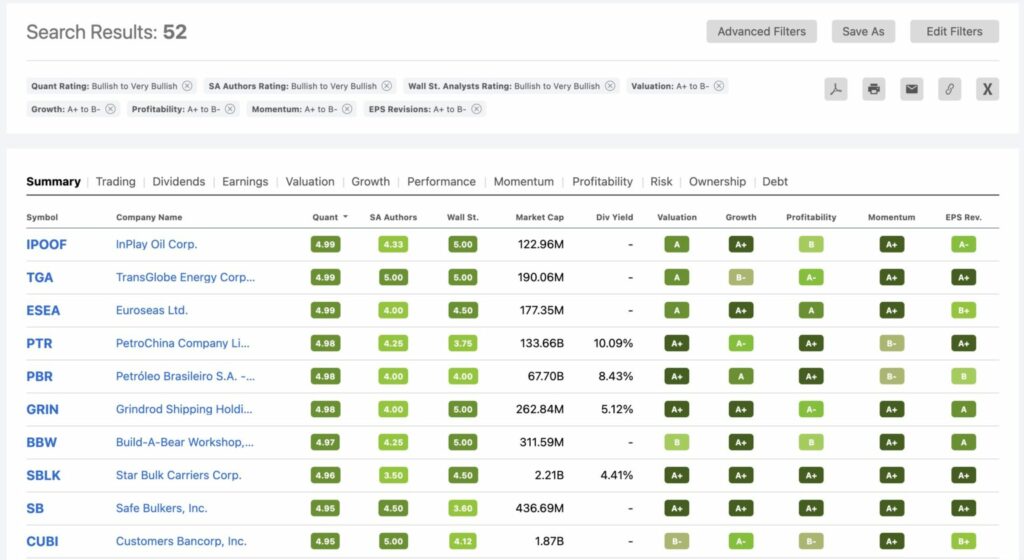 The screen shot above is a menu item for Premium users.
It allows you quick access to see which stocks have the highest quant rating.
See the third column that shows that first stock IPOOF with a 4.99 quant rating?
Any stock that is rated 4.5 or higher is considered a "STRONG BUY."
Those "Strong Buy" rated stocks are the ones that have beaten the market by 4x over the years.
The Top Rated Stocks screener is a feature available to Premium subscribers that lets you screen for the stocks with the best Seeking Alpha author ratings, Wall Street ratings, and Quant ratings all in one place.
Along with analyst ratings are factor grades for valuation, growth, profitability, and momentum, as well as EPS revisions.
This is an easy way to get a list of some of the most promising stocks out there in just a couple of seconds!
You can also create your own screens using 100 filters to help you pinpoint stocks that fit your specific investing style!
Seeking Alpha Tip: Build your own custom watchlist of the stocks that you have in your portfolio, and monitor their quant rankings daily. If you ever see one of your stocks listed as a "Strong Sell" (1.5 or less) you need to really consider selling it. As expected, their bearish stock picks (rated "Strong Sell") have UNDERperformed the market 156% to the market's 398%.
Earnings Calls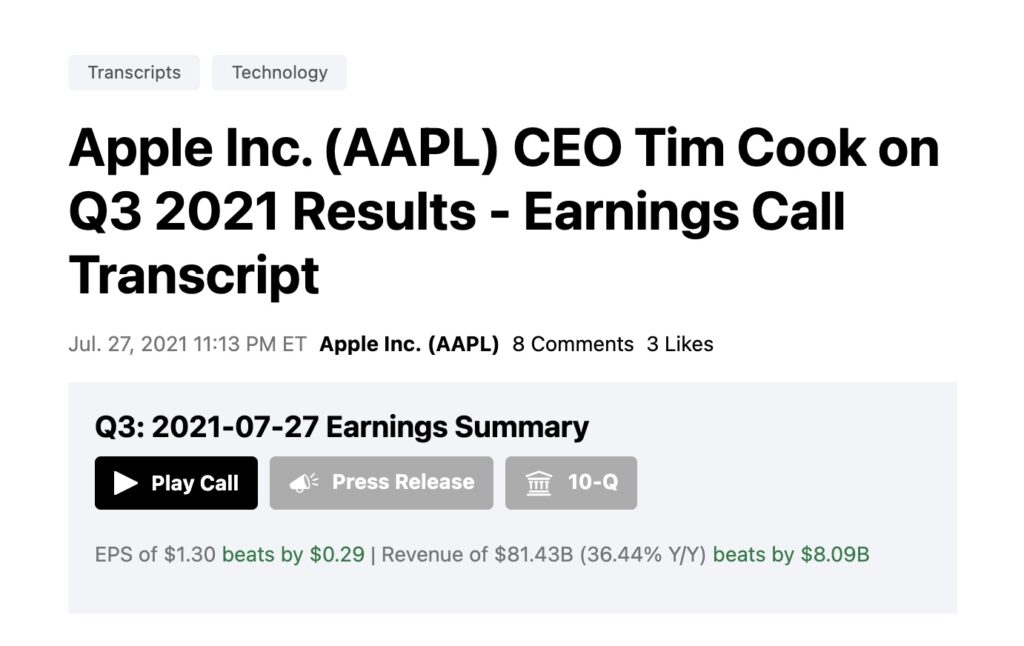 When you want to analyze a stock's earnings history or EPS revisions, it can be helpful to read the transcript of the company's earnings call (or even listen to the audio!) as a supplement to your research.
With a Premium subscription to Seeking Alpha, you get access to over 1 million investing ideas and earnings call transcripts and audio on stocks that aren't covered anywhere else.
Stock Ratings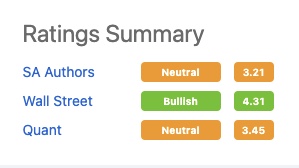 When you want to evaluate whether or not a stock will be a good addition to your portfolio, you have access to three main types of ratings on Seeking Alpha: the Quant Rating, the Seeking Alpha Author's Ratings, and Wall Street Analysts Rating.
Quant Ratings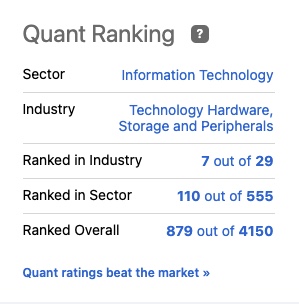 This proprietary rating is obtained through quantitative analysis, which is a non-human analysis powered by algorithms and coding to find the best stocks to trade.
The quant ratings are based on a stock's value, growth, momentum, profitability, and EPS (earnings per share) revisions.
All of the above ratings range from "Strong Buy" to "Strong Sell" and are an excellent way to start your search for a new stock.
This is the most valuable rating to consider. According to Seeking Alpha, stocks rated 4.5 or higher beat the S&P 500 by about 4x (1,754% vs 385%). On the bearish side, stocks rated 1.5 or lower return only 1/3 (156% vs 279%) of the S&P 500.
Read that again. Stocks that have a Seeking Alpha Quant Rating of 4.5 or higher have an average return of 1,754% compared to the market's 385%!
That alone proves the value of Seeking Alpha!
Seeking Alpha Ratings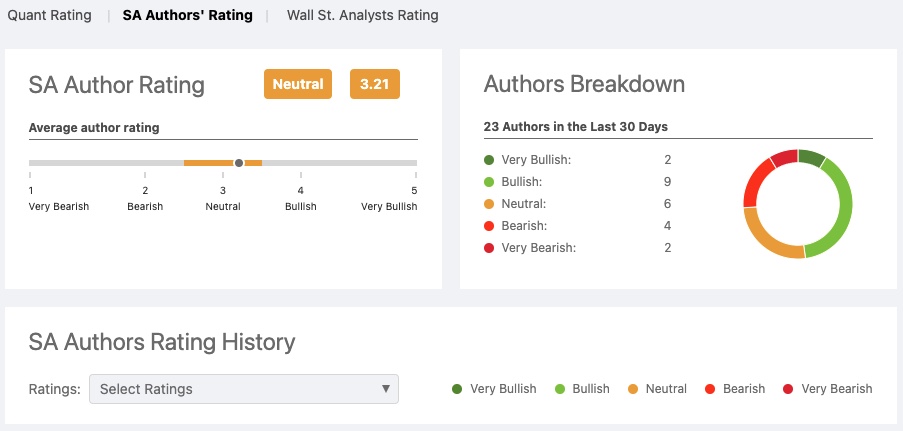 These ratings are an average rating from Seeking Alpha authors.
This is invaluable, as you can find out what the community thinks about your current stock picks.
To get full access to Seeking Alpha author ratings, you'll need a premium subscription.
Click here for a FREE TWO-WEEK TRIAL of Seeking Alpha Premium!
Wall Street Ratings
This is a collection of ratings from Wall Street financial analysts.
It is updated weekly from over 100 Wall Street banks and brokerages.
Dividend Grades

If you're looking to implement an income investing strategy or you're just looking for a company that has increased its dividend steadily over the last few years, you can use Seeking Alpha's proprietary Dividend Grades feature.
Dividend Grades gives you a different score for a company's dividend safety, growth, yield, and consistency.
Data Visualizations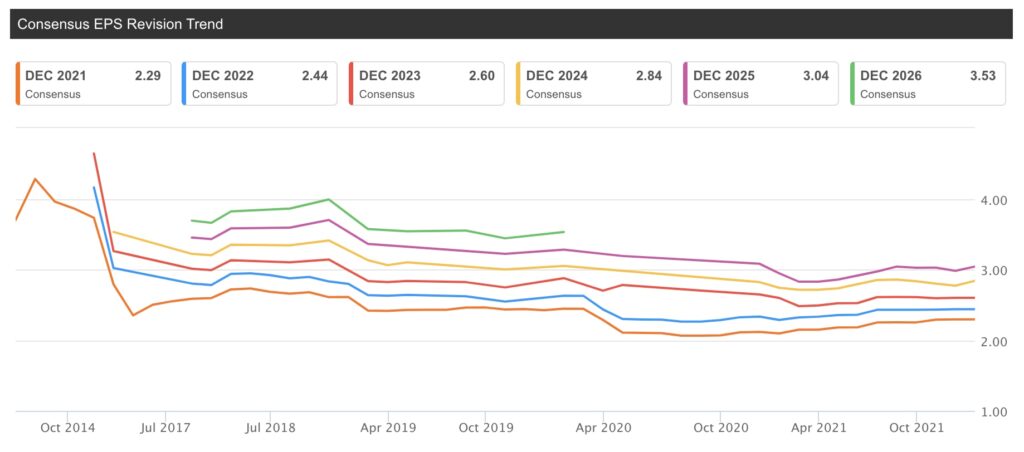 Seeking Alpha has plenty of data visualizations to help you view earnings forecasts, revisions, and surprises, as well as dividend forecasts and other important metrics.
Peer Comparisons
If you're trying to compare two different stocks to see which one is better or you just want to see how a certain stock compares to related securities, you can make these comparisons in a side-by-side view.
Downloadable Financial Statements
Are you the type of investor who really likes to dive deep into the fundamentals before making a decision?
Well, Seeking Alpha will help you by granting you access to 10 years of financial statements that you can download and analyze.
Email Alerts
Seeking Alpha also lets you subscribe to a multitude of email lists that can help you with your portfolio.
For example, you can sign up for email alerts for individual stocks in your portfolio, which will tell you when there's a big swing in price or a change in rating.
You can also sign up for email alerts from certain authors which will notify you when your favorite authors post.
You can sign up for newsletters of your choosing, such as Must Reads, Wall Street Breakfast, Tech Daily, and Global Investing. You'll get an email notification whenever a new issue of one of your newsletters is released!
Is Seeking Alpha Reliable?
When judging whether or not an investment research platform is reliable, it's always best to judge them on their performance.

And as you can see, Seeking Alpha's "Strong Buy" rated stocks have a phenomenal history of beating the market.
This graph illustrates the performance of stocks that Seeking Alpha's quantitative analysis algorithms have rated as "Strong Buy" compared to the performance of the S&P 500 over the last decade.
If you had invested $10,000 into a portfolio made up of Seeking Alpha's "Strong Buy" stocks in equal parts, then you would have made an average annual return of 27%, earning $147,923 more than you would have if you had simply invested in the S&P 500.

But we don't just need to look at the stocks that Seeking Alpha has told its users to buy…
Seeking Alpha VERY BEARISH Rating
…What about the stocks that the platform recommended that we avoid?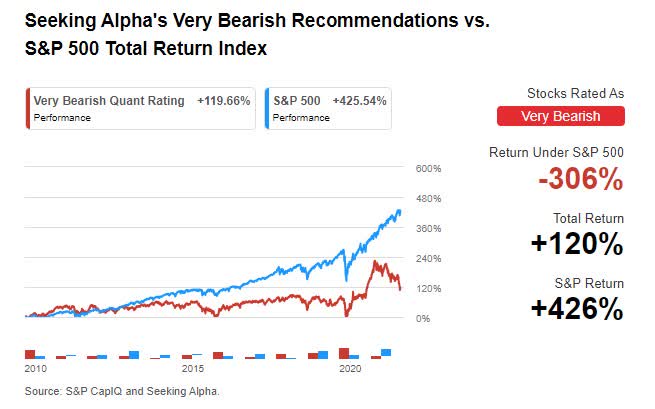 Here is a graph of the performance of stocks that Seeking Alpha's quant system has rated as "Very Bearish" or "Strong Sell" against the performance of the S&P 500.
Their "Strong Sell" stocks underperformed the S&P 500 by over 300%.
In other words, Seeking Alpha was right again! Simply put: Seeking Alpha's "Strong Buy" rated stocks CRUSH the market by 4x; and their "Strong Sell" rated stocks lag the market by 306%.
As you can see, Seeking Alpha has a stellar history of accuracy when it comes to evaluating stocks through quantitative analysis.
So we can say with complete confidence that…
…Seeking Alpha is reliable!
Seeking Alpha Plans
Here's an overview of the different membership plans offered by Seeking Alpha.
The Basic Plan:
Follow authors and get new articles from them
Receive up to 15 newsletters by email
Read and post Blogs
Read, post, and track comments
See some Quant Ratings and underlying metrics
Review 5 years of financial statements
Compare 5 stocks at once
Sync your stock broker portfolio
Build and manage a portfolio of stocks or ETFs
Receive stock news and analysis email alerts
Receive earnings and transcripts email alerts
Read personalized news and articles
See the earnings calendar to know when your stocks report
The Basic plan is absolutely free. All you have to do is sign up for an account!
The Premium Subscription:
Everything included in Basic
Access all Premium investing ideas
Listen to earnings and conference call recordings
Screen for Top Rated Stocks with ratings screener
Less ads
Access all stock earnings transcripts
View Seeking Alpha author stock ratings
View Seeking Alpha author ratings history
Track each investing idea's performance
View article sidebar: stock chart, key data, ratings
See stock dividend and earnings forecasts
Access Dividend Grades for each dividend stock
Download or print financials
Download earnings & company presentations
See ALL Quant Ratings and underlying metrics
Review 10 years of financial statements
Compare 7 stocks at once
Receive full access to news and analysis
See the EPS Revisions Grade in the earnings calendar
See 3 types of ratings for each stock in your portfolio
Enhanced experience for reading news
Get alerts on upgrades and downgrades on your portfolio
The Premium subscription is an absolute steal. At only $239 per year, this plan is simply the best bang for your buck!
---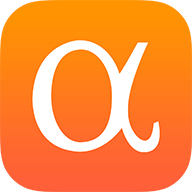 ---
The PRO Subscription:
Everything included in Premium
Receive exclusive newsletters and interviews
Access Seeking Alpha's Top Ideas
All short ideas in one place
VIP Editorial Concierge
Screen for investing ideas with PRO screener
No ads
The PRO subscription costs $2400 per year.
Is Seeking Alpha Right for You?
We truly believe that Seeking Alpha is a stock research platform that has something for everyone.
The Basic plan is right for you if…
You're just starting out in the investing world, or you want to get a feel for how Seeking Alpha works.
If you're trying to learn about the basics of fundamental investing while seeing what a professional research platform has to offer, you can start out with the Basic plan.
You'll have the "lite" version of most of the basic tools you need, but you won't have full access to the features that will help you manage a full portfolio.
The Premium plan is right for you if…
You're an intermediate-level investor committed to saving up for retirement or other long-term goals.
The Premium plan is the ideal plan for real fundamental investors.
The best part about the Premium plan is that you can do as much or as little research as you want.
If you just want to know which stocks have the best ratings from Seeking Alpha, Wall Street analysts, and quantitative analysis, then you can see that in a matter of seconds.
But if you want to drill down deep into the different evaluation factors that Seeking Alpha uses, then you're able to do that type of in-depth research as well.
---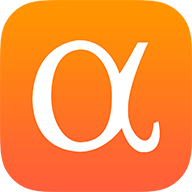 ---
The PRO plan is right for you if…
You're a professional investor who wants the VIP treatment.
The level of special treatment that Seeking Alpha PRO subscribers enjoy is suitable for professional or institutional investors who make regular trades (including shorts) and/or want to contribute to the Seeking Alpha community by sharing their investing opinions regularly.
Seeking Alpha's Alpha Picks
If you don't want to research stocks and you just want to get 2 emails a month with their highest rated stock, then you absolutely should try Alpha Picks.
Launched in July 2022, their picks are already beating the market 30% versus the SP's 9%.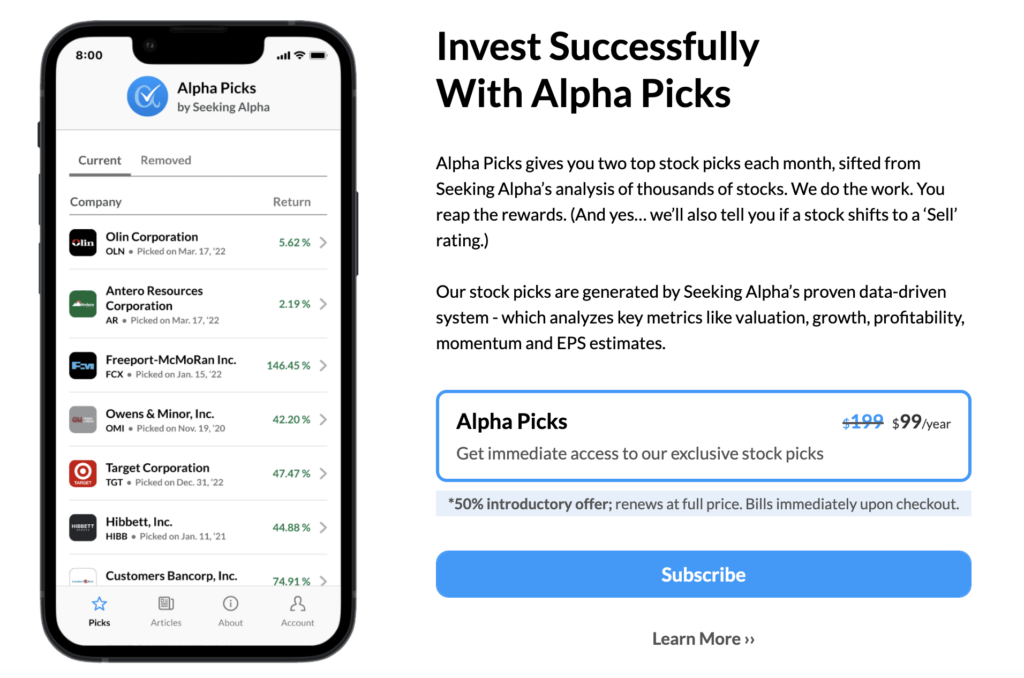 Best of all, this service is also priced currently at just $99.
Final Thoughts
One of our favorite things about Seeking Alpha is that they have a variety of service levels depending on which type of investor you are.
If you want to research your own stocks to make sure you are picking those with STRONG BUY ratings, then their Premium service is for you.
If you just want go get their top 2 rated stocks each month, then their Alpha Picks is for you.
Either way, their website is so easy to use. There is a lot of information but they make it super easy to find the Quant Rating on each stock.
They truly believe that investing knowledge should be democratized into an affordable platform that anyone can use, and that's exactly what they've done.
And they don't try to get everyone to buy PRO because they know that most people don't need it.