*** Updated February 15, 2020 — All returns as of closing Friday, February 14, 2020 prices.  ***
Investment newsletters make getting stock market analysis and stock recommendations easy.
But… there are so many newsletters to choose from… how do you know which newsletter provides the best stock recommendations?
I am a huge fan of buying stocks because buying individual companies helps me outperform index funds and beat the market.
How do I beat the market?  I analyze dozens of newsletters and buy the stocks recommended from the best newsletters.
Over the last 30 years, I have subscribed to dozens of investment and stock newsletters.
These newsletters give me lots of advice and many stock picks each month. But which ones are worth the time and money?
I know you are busy, so below I will rank the Best Stock and Investment Newsletters based on the following criteria:
Percentage return (including dividends) of all of their picks for each calendar year.
Percentage of their stock picks that are winners.
Cost of the newsletter.
Refund policy–Can you get your money back when you cancel?
Customer service–Can you get hold of anyone that will answer a question?
Based on the above criteria, the Best Stock Newsletter of 2019, 2018, 2017 and 2017 and 2016 is….
The Motley Fool Stock Advisor ranks as our #1 Best Investment Newsletter for the forth year in a row.
Their stock recommendations continue to beat all of the other newsletters and they maintain a very high accuracy of their picks.  Their 96 stock picks from these 4 years are up 85% and they have outperformed the market by an average of 45% as of February 15, 2020.  Read that again…  The Motley Fool's stock picks from have BEAT THE  MARKET by 45% for the last 4 years.  No other newsletter comes close to that.
---
---
*** SPECIAL ALERT: March 18, 2020 Update ****
The markets have dropped over 30% since their highs just a few weeks ago because of the Coronavirus, but we are starting to see more signs that this might be a PERFECT BUYING OPPORTUNITY:
#1. Stock Prices Are Down 30%.  This is a good thing! If you are thinking of buying stocks, now's your chance to get quality companies at much more affordable prices. This offers a very attractive entry point, because stocks are ON SALE and you can now buy quality stocks for 30% less than you would have paid for them in February.
#2. More Articles Are Starting To Recommend Buying. As we are nearing the bottom of this drop, we are starting to see more articles like this: BlackRock is suggesting we may be at a "once in a lifetime opportunity", Morgan Stanley says to start buying, and Warren Buffet has a stock pile of cash and rumors are he is starting to buy.
#3. Dollar Cost Averaging Works! Since nobody knows where the bottom will be exactly, smart investors continue to invest a fixed dollar amount in the market each month. This is called Dollar Cost Averaging. That way, when the markets are down you are buying more shares of your favorite stocks at cheaper prices. This helps drive down your average cost and increase your profits when the stock market moves back up.
If you need recommendations for stocks to buy now, keep in mind that the Motley Fool Stock Advisor beat the market by over 30% the last 4 years, and they are currently recommending that NOW IS THE TIME to start buying some of those quality stocks that should make up the foundation of your portfolio. The Motley Fool Stock Advisor service is recommending at least 15 stocks that you should plan on holding for the next 3 to 5 years. So, if you need investing ideas, it is a PERFECT time to consider the best stock newsletter over the last 4 years--The Motley Fool Stock Advisor
Normally it is priced at $199 per year but they are currently offering it for just $99/year if you click this link. 
If you order today, you will get these upcoming email reports...:
April 9 - Tom's List of His Top 5 Stocks To Buy Now
April 16 - David's New Recommendation
April 23 - David's New Best Buys Now
May 7 - Tom's New Recommendation
CLICK HERE to get The Motley Fools Stock Picks for just $99 per Year! 
---
---
Keep reading this review and I will tell you ONE FACT that is their most impressive performance statistic.
You may have seen the Motley Fool' advertisements that their picks, since inception, are up 359% compared to the market's 104%.
And for the last 5 years they say their picks are up 61% compared to the market's 39%.
Is The Motley Fool's Stock Advisor really as good as they claim? Our results, at least since January 2016, suggest YES.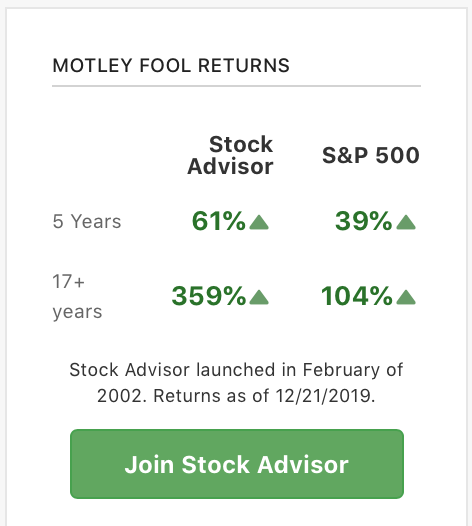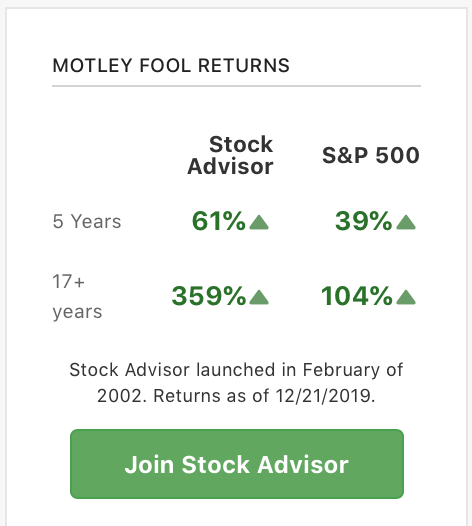 Let's get straight to the important stuff you want to know about this service.
When you subscribe, you will get two new stock recommendations each month and several BEST OF lists of stocks each year.
Here is a typical month of release.  For January 2020, here is what they released:
On Jan 2, 2020 they released Tom Gardner's next stock recommendation
On Jan 9, 2020 they released Tom's 5 New Best Buys
On Jan 16, 2020 they released David Gardner's next stock recommendation
and on Jan 23, 2020 they released David's 5 New Best Buys
Each recommendation comes with an in-depth (but easily understood) analysis that tells you why they recommend each stock.
You will also get unlimited access to…
The Motley Fool's list of "Best Stocks to Buy Now." Best ideas chosen from all of the picks since the service started.
The Motley Fool's list of "Starter Stocks that should be in Everyone's Portfolio." Stocks that give you an excellent foundation for your portfolio.
Their Knowledge Base and Community. Educational materials that will help you become an expert investor, and message boards to chat with other investors.
So why is it our #1 pick for the Best Investment Newsletter?
Its performance of the last 4 years has killed the competition (and beat the market by 45%). Their 96 stock picks from 2016-2019 on average are up 84.84% and have outperformed the SP500 by 45.37% as of February 15, 2020.  Read that again.  Their stock recommendations from have outperformed the market by 45%. None of the newsletter that we track came close to that performance.
Lots of their stocks doubled or tripled. How did they do so well?  It is because lots of their stocks double or triple in price.  For example, Okta (ticker OKTA) is up 369%, Shopify (SHOP) is up 319% and Paycom Software (ticker PAYC) is up 244% since they recommended them in 2018.
Older stock picks from 2016 and 2017 continue to outperform.  MTCH is up 608% since it was first picked in April 2016; SHOP is up 1,543% since it was first picked in July 2016; MASI  is up 175% and MA is up 235% since they were picked in December 2016.  From their 2017 picks, TTD is up 380%, PAYC is up 353%, FTNT is up 201% and APPN is up 188%.
Very good success rate. 20 of 24 picks from 2019 are up, 18 of 24 picks from 2018 are up, and over the last 4 years 83% of their picks are up.
Their 2020 picks are off to a great start. Their January 2, 2020 pick of Tesla (TSLA) is already up 85%, and their February 6, 2020 pick of NVTA is already up 22%.
The Motley Fool stock picks are still coming from the 2 brothers that started the company in the early 1990s.  So when you order the Fool service, you know that you can expect similar results because the stock picks are coming from the same 2 guys.  Other services have so much changeover, you never know if the stock recommendation this year is coming from the same guy that might have made good stock picks last year.  At the Fool, you can expect results to be the same as previous years' because it is the same people picking the stocks.
The price is extremely reasonable AND they offer a MONEY BACK GUARANTEE.  Of all the investment newsletters we subscribe to, it also happens to be the least expensive.  They also have a 30 day money-back guarantee .  They are so confident in their service that they encourage you to try it and get their next 2 stock picks–then you can cancel if you aren't happy and get your money back.  You really have nothing to lose.  Normally it is $199 a year, but if you are a new customer you can try it for just $19.   Here is the link to their new customer discount page.
Based on their performance for the last 3+ years and its current subscription price, the Motley Fool Stock Advisor is the newsletter that I trust the most and the only one that I buy ALL of their picks as soon as they come out.
There is one thing you need to know about their service, however….  Because they have so many subscribers, their picks tend to go up a few dollars they day their recommendations come out.  So to get the best returns, you need to buy their stock picks as soon as you receive their alerts.  Then you can almost count on the stocks rising for the next day or two.
Here is the One Fact About the Motley Fool Service That Is the Most Impressive
Since the inception of the Motley Fool Stock Advisor, their average stock pick is up 406%!
How did they do that?  Take a look at some of their picks over the last decade…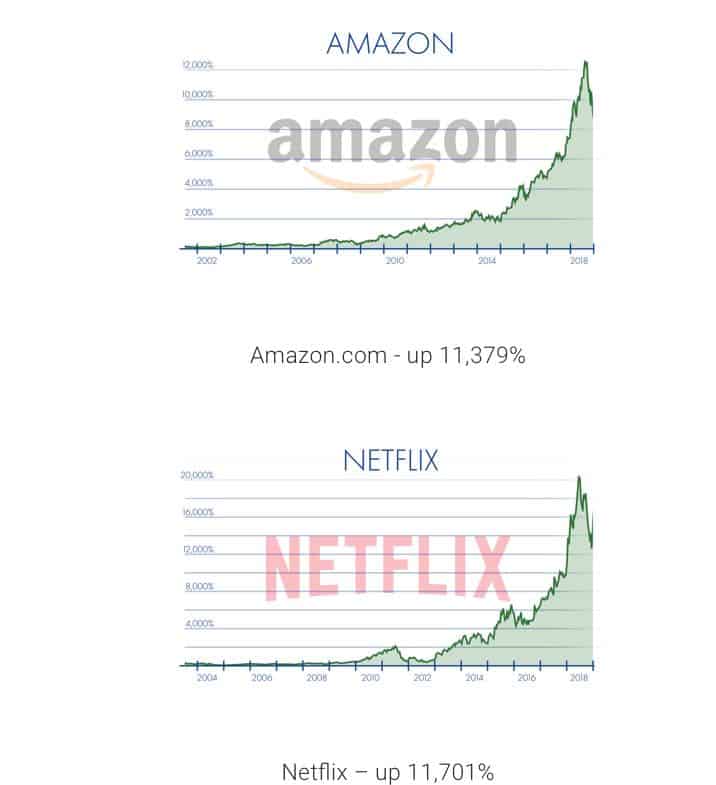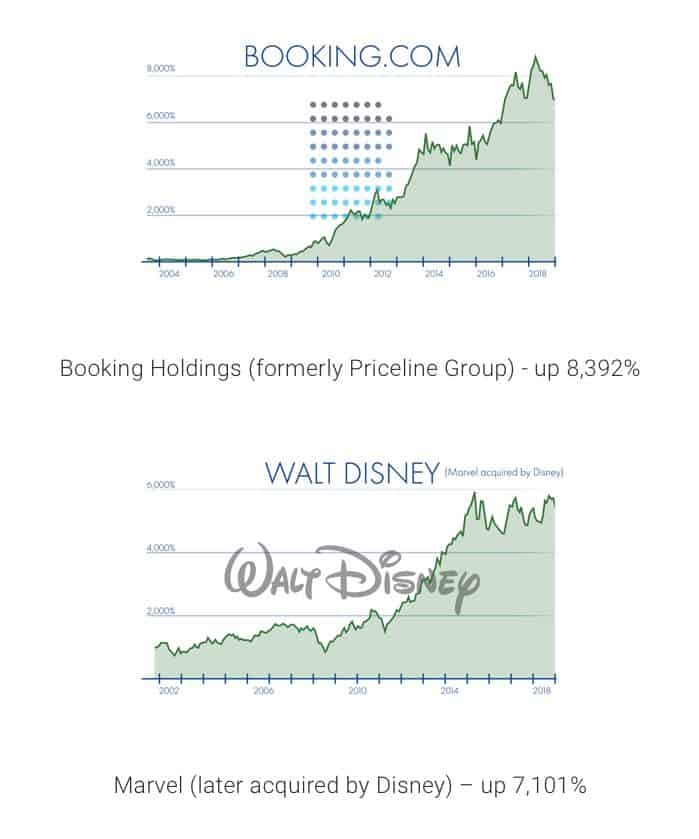 If you need help getting excellent stock picks like these and you want the best chance of beating the market over the next few years, don't miss out on their next pick that comes out every other Thursday.  Click here to get their next picks and their list of 10 Stocks To Buy Now.
Our Best Stock Newsletter for 3 Years in a Row
Another reason the Motley Fool Stock Advisor is our top pick this year is very simple. It has performed the BEST for 2018 and 2017 and 2016!
We first subscribed in January 2016. As of February 15, 2020, here is how their last 4 years of stock picks have performed…
Of their 24 picks for 2016, 20 are up.  The average return of all 24, including the few losers, is an amazing 170% which is 98% BETTER than the market.  In fact, 15 of these picks are up over 50% with the best picks SHOP up 1,543% and MTCH up 608%.
Of their 24 stock picks for 2017, 21 are up.  The average return of all 24, including the losers, is 81% which is 35% BETTER than the market.  In fact, 13 are up over 50% with their best picks TTD up 379% and PAYC up 353%.
Of their 24 stock picks for 2018, 19 are up with an average return of 80% which is 54% BETTER than the market (SP500).
How Much Does The Motley Fool Cost?
For the last year 3 years we paid $199 a year for the service. But they just launched a new 50% off Fall 2019 price promotion. Currently, new customers can subscribe for either $19 a month or $99 per year on THIS New Customer Discount Page.  At $19 a month that is $228 (12 x $19) a year, so you will actually save $129 a year if you just pay for the year.  Either way you can cancel within 30 days.
If you start out at the $19 a month subscription, they let you cancel within 30 days and get your money back.  Or if you are satisfied with it, then you can switch to the $99 annual payment and save the $129 a year.
Based on our historical performance since 2016 and the performance of their last 72 stock picks, subscribing to the Motley Fool for just $99 a year is a great deal for both the beginner and the experienced investor.  Given that their stocks tend to "pop" a few dollars as soon as their recommendations come out, you should recover the cost of the service with the first pick or two.
How Do I Subscribe?
Subscribing is easy.  They require your name, email and billing address–and, fortunately, they do NOT require a phone number so they won't harass you with telemarketing campaigns like other services do.
---
 Here's What You Get With The Motley Fool
Two brand new stock recommendations per month delivered in real-time to your email.

On  the first Thursday of the month they will release Tom Gardner's next stock recommendation
On the second Thursday they will release Tom's 5 New Best Buys
On the third Thursday hey will release David Gardner's next stock recommendation
and on the fourth Thursday they will release David's 5 New Best Buys

Access to all of the Motley Fool's Stock Advisor recommendations they made in 2019, 2018, and 2017.
The Motley Fool's Top 10 Best Stock to Buy RIGHT Now report that features some of their recent picks that still offer the best potential return.
The Motley Fool's Top 5 Starter Stocks report that features the ideal stocks that should be the foundation of new investor's portfolios.
Access to all of their stock reports so you can even get their research on other stocks that you might be thinking of buying.
You must use THIS PAGE to get their New Customer discount.
---
If you are still not convinced, then read our full review.
The Motley Fool Ruler Breakers is a high-growth investing service.
Rule Breakers is similar to Stock Advisor, with a few twists…
With Rule Breakers, you get two new stock recommendations each month.
These recommendations are based on stocks that will become tomorrow's market leaders.
Here are the six rules that differentiate "Rule Breaker" stocks:
Emerging Industry. Innovative companies in emerging industries that are poised to change the world.
Sustainable Advantage. Companies must show potential for long-term advantage over competitors.
Past Price Appreciation. Rule Breakers have performed well in the past.
Good Management. You want to invest in companies with vision and competent management.
Consumer Appeal. Customers have to love the product or service.
Grossly Overvalued. Wall Street may be underestimating the companies' transformative value.
Each rule is considered when stocks are being chosen and recommended to users.
Over the last 3 years, the stock picks from the Motley Fool Rule Breakers service has actually slightly outperformed their Stock Advisor service.  But their Rule Breaker picks are a lot more volatile in that they also pick more losers.  So I find this service to be more hit or miss since they are really trying to pick high growth stocks in newer industries.  If you do subscribe to this service, you definitely need to buy EVERY pick that comes out so that you don't miss on the few that skyrocket.
For example, in January 2018 they picked AYX which is up an amazing 307%.  They also picked MDB in February, 2018 which is up 361%  and GH  in November 2018 which is up 109%   Their March 2019 pick of ROKU is already up 159%.  BUT in 2019–they have also picked 2 stocks that are down 20% or more; and 6 stocks that are still within 5% of their original buy price.
So….. to summarize on the Rule Breakers service, over the last 3 years ON AVERAGE it has performed better than Stock Advisor, but with more volatility and more losers.
So, do you want to add high growth stocks to your portfolio? Do you have the cash to buy EVERY one of their 24 recommendations per year, then you should subscribe to Rule Breakers while it is still on sale for $99 a year or $19 a month .  I paid $299 a year for it in 2018 .  As with all of the Fool products, you can cancel anytime. (read our full Rule Breakers review)
Additionally, you can check out my article revealing the Top Motley Fool Picks.
Tim Sykes runs a popular blog that helps investors on their investing journey.
But instead of checking the blog each day…
…you can get Tim Sykes "PennyStocking" watchlist e-mailed straight to your inbox each morning at 8 am.
You will also get updates throughout the day on trades that Tim Sykes makes.
But who is Tim Sykes, anyway?
He is a trader that turns thousands into millions and has seen 50% gains over the past six months!
And you can follow each trade that he makes EXACTLY as he buys and sells throughout the day.
Tim maintains that "it only takes one good trade to pay for an entire year of TIM ALERTS!"
You can sign-up for daily stock picks for just $2.50 per day.
4. Jim Cramer Action Alerts
Finding the top stocks requires focus, discipline, and most importantly, homework.
Luckily, Jim Cramer's Action Alerts take those steps out of the equation for you!
Jim Cramer offers his alerts as a subscription service available through TheStreet.com.
The service will send you an e-mail when Cramer has recommended a buy or sell for any stock.
You will also receive additional analysis such as…
Detailed information on the stock
The action being taken
Why that action is being taken
At the end of each week, Cramer will do a weekly roundup of all the shares that he currently owns.

We like this service because it allows everyday traders to get inside the head of an industry expert.

With this, you will have the tools necessary to make well-informed decisions for your own investment portfolio.

There is even a 14-day trial of Action Alerts so that you can see if the service is right for you.

[stash]

Zacks Investment Research gives users the tools and market insights necessary to invest successfully.

The newsletter is e-mailed each weekday morning and summarizes the market, what the market means for investors, and what you should do next.

You also get links to articles featuring Zacks top stock, ETF, and mutual fund picks.

You can sign-up for a free daily newsletter, free articles, and many other features.

Zacks offers the following account options:
Free Registration. Resources that will help you profit with no obligation to purchase.
Zacks Investor Collection. Bundle of top subscription services for long-term investors.
Zacks Ultimate. All private buys and sells from all exclusive recommendation portfolios.
You should review each account options to determine which one will help you achieve your financial goals.
You can try the Investor Collection and Ultimate free with a 30-day trial.
Get Free 5 Stocks Set to Double
6. Kiplinger's Personal Finance
Kiplinger's is a monthly magazine that aims to satisfy all of your money management and investing needs.
This publication covers things like homeownership, vehicle purchasing, and retirement saving.
Additionally, Kiplinger advocates for long-term investing and low-cost investing which is perfect for young investors.
Each month several columnists cover a variety of topics, which include:
Latest financial trends
Individual stocks
Mutual funds and ETFs
Bond investing
Retirement planning
Real estate
Bank accounts, credit cards, automobiles, and technology
Kiplinger is definitely one of the most broad and comprehensive financial newsletters.
And, the best part is…
…this magazine covers all areas of finance, and you can sign up for just $12 a year!
7. Stansberry Research
Stansberry Research specializes in providing actionable investment recommendations and research for individuals self-managing their portfolios.
Stansberry promises to bring "the safest, most profitable investment ideas in the world, no matter what's happening in the markets."
You can check out any of the following entry-level newsletters:
Stansberry's Investment Advisory
True Wealth
Retirement Millionaire
Each newsletter uses a different investment strategy, so it will be up to you to determine which is best.
You can sign-up for a newsletter for $199 annually.
But you can often find discounted subscription prices with a little research of your own.
8. The Speculative Investor
The Speculative Investor combines technical analysis with macroeconomic analysis.
This analysis covers equities, gold and gold stocks, currency exchange rates, commodities, and bonds.
Subscribers receive two commentaries per week covering the financial markets mentioned above.
Additionally, you will receive stock picks and other trading ideas to boost your portfolio.
You can sign-up for $25 per month or $240 per year.
9. Nate's Notes
Nate's Notes is a monthly newsletter that focuses on helping investors grow their wealth in the stock market with a long-term approach to investing.
The newsletter is an easy read that can be understood by investors of all levels.
Additionally, two portfolios are used to track returns generated by these newsletters over time.
You can cancel your subscription at any time to receive a pro-rated refund if you are dissatisfied.
You can get your 1-year subscription to Nate's Notes for $289.
The bottom line is, investing newsletters can be used to make informed investing decisions.
There are many different newsletters at your disposal and each one offers a different point of view.
Do you use investing newsletters? Which ones are your favorite?
Let us know with a comment below!
Best Investment Newsletter Conclusion
There are hundreds of services out there claiming they can help you find good stocks and beat the market.  We subscribe to a few dozen and update this list quarterly so you can see which ones are performing the best.
Over the last 3 years, the stock picks from the Motley Fool Stock Advisor have consistently outperformed the overall market by 23+%. That is far and above all of the other newsletters we track.
While every stock pick of theirs does not go up, they always pick a few stocks that double and triple each year–that is how they get their amazing returns.
Not only did the Fool's Stock Advisor have the best returns for the last 3 years, but it is also the most affordable newsletter at just $19.
We don't guarantee future results, we are only sharing our historical results.  If you want to get their next stock picks, for just $19, CLICK HERE.
If you have cash available every month to invest, the Rule Breakers newsletter is our second best performer.  On average their 24 picks for each of the last 3 years have outperformed Stock Advisor's , but their variance is much more.  The Stock Advisor has fewer losing stock recommendations, but Rule Breakers has more super-returns on a few stocks.