You look like you could use some help with your investment research.
Heck, couldn't we all use a little help?
There are many options available, from good to bad, and cheap to way too much.
Therefore, you need to do research on the tools to help you do your research. Make sense?
But we are here to make this process a piece of cake.
Today we will be comparing Zacks Premium and Motley Fool Stock Advisor.
These are two proven investment services with very different benefits and features.
Okay – enough talking – let's dive right into it!
Overview: Zacks vs. Stock Advisor
Len Zacks founded Zacks Investment Research in 1978.
Zacks Premium focuses on providing independent research to give you a trading advantage.
Nowadays, the company is run by industry experts who focus on quantitative analysis.
Zacks focuses its analysis on equities, mutual funds, and ETFs.
The Motley Fool Stock Advisor is a premium stock recommendation services.
Tom and David Gardner lead Stock Advisor, the oldest and premier Motley Fool newsletter service.
The primary purpose of this service is to give investors stock tips to assist in research.
We realize both Zacks Premium and Motley Fool Stock Advisor are similar (but different) in many ways.
This comparison of these two services can help you decide which one to choose.
Alternatively, you may find that these services complement each other and sign-up for both!
Zacks Premium
Zacks Premium gives you exclusive access to powerful research and tools.
Access to these features will give you an edge in improving the performance of your investments.
The Zacks Premium homepage gives you access to everything included in your membership.
Finding the homepage can be tricky, so be sure to follow these steps:
Log on to Zacks.com.
Hover over the "Services" tab (top of the page)
Select "Zacks Premium"
Pro tip: Bookmark this page before you forget how to find it!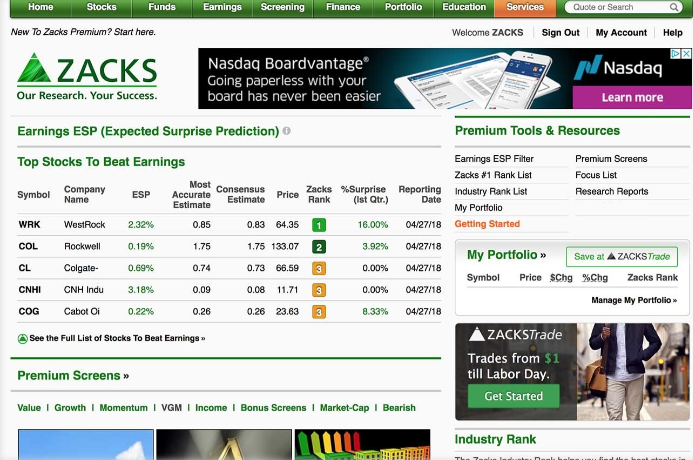 The Premium Tools & Resources include:
Zacks #1 Rank List | The top 5% of stocks with the most potential, from Value to Growth, Moment and Income, and more!
Industry Rank List | Sorts over 250 industry groups.
Earnings ESP Filter | Stocks with the highest probability of surprising for profitable earnings.
Premium Screens | Quickly access a list of the best stocks, including value, growth, momentum, income, and more!
Focus List | A portfolio of 50 long-term stocks chosen by Zacks' Director of Research, Sherax Miam based on earnings momentum.
Research Reports | Covering more than 1,000 widely followed stocks, each report contains independent research from Zacks' analysis and provides in-depth analysis on a company, its fundamentals and growth prospects.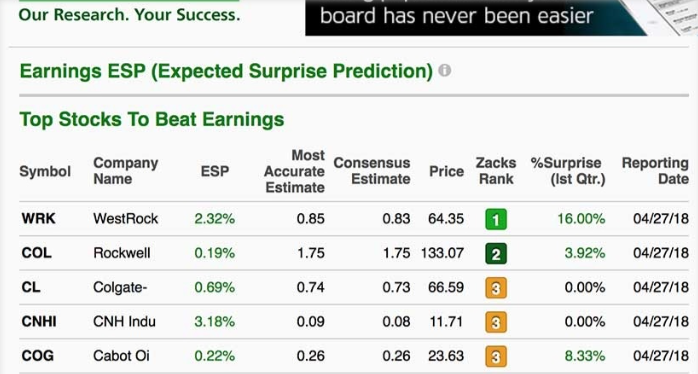 These items can be found on the Zacks Premium homepage for quick and easy access.
Zacks Investment Research gives users the tools and market insights necessary to invest successfully.
Zacks covers over 19,000 mutual funds, which are rated from one to five. What do these ratings mean?
A rating of ONE signals a "strong buy" recommendation.
A rating of FIVE signals a "strong sell" recommendation.
The company uses two mutual fund ranking systems in the Zacks method.
There is one method for U.S. stock-based funds and one for everything else.
For the U.S. stock funds, Zacks proprietary stock-rating system identifies the top holdings in each fund and uses that to determine the mutual fund ranking.
All other funds receive rankings based on several key factors that help determine which funds will outperform the market.
Additionally, you get links to articles featuring Zacks top stock, ETF, and mutual fund picks.
And finally, the newsletter is e-mailed each weekday morning and summarizes the market, what the market means for investors, and what you should do next.
You can sign-up for a free daily newsletter, free articles, and many other features.
If Zacks Premium is not enough…
…Zacks offers the following account options:
Zacks Premium. This membership comes with everything we mentioned above.
Zacks Investor Collection. This membership comes with everything in Premium, plus real-time buy and sell signals and the Stocks Under $10.
Zacks Ultimate. This membership is the most inclusive package, including everything mentioned above and access to every recommendation the firm offers.
The Motley Fool Stock Advisor
The Motley Fool Stock Advisor is the company's flagship newsletter service.
Users get access to the company's top investors and two new stock recommendations each month.
---
---
*** SPECIAL ALERT -- Thursday, June 24, 2021 -- MOTLEY FOOL STOCK ADVISOR RECAP–2020 YEAR END SUMMARY (ONE STOCK HAS GONE UP BY 848%!) ****
The year 2020 is finally over. It was tough in so many obvious ways, but if you were a Motley Fool subscriber you are smiling given that 22 of the Motley Fool's 24 stock picks from 2020 are up; and the average return of those 24 picks thru Feb 5, 2021 is +115% compared to the SP500's 25% meaning you BEAT the market by 90% this year!
We have been tracking ALL of the Motley Fool stock picks since January 2016. That's 5 years, 60 months and over 120 stock picks. As of Friday, February 12, 2021, NINE of their 24 stocks picks from 2020 have already more than doubled (NVTA, ZM, SHOP, ZM (picked 2x), CRWD (picked 2x) and FVRR) and another one (TSLA) has increased 848%. In addition, 12 of their 2019, 13 of their 2018, 12 of their 2016 and 15 of their 2016 picks have also more than doubled. Best of all, over these 5 years, the average stock pick is up 230%. That beats the SP500's 58%. And that's even accounting for all of this COVID mess that has wreaked havoc on most stocks. BUT, the Fool has done so well because they quickly identify stocks year that will perform well in the current environment. THAT is how the Fool consistently does so well--they adapt and constantly pick stocks before everyone else realizes the opportunities.
Tesla (TSLA) picked January 2, 2020 before the crash and it is up 848%
Shopify (SHOP) picked March, 2020 and it is up 320%
CrowdStrike (CRWD) picked July, 2020 and it is up 125%
Fiverr (FVRR) originally picked September, 2020 and it is up 177%
** If you had been a subscriber, then you would have these profits as of Februqry 12, 2021
Now, no one can guarantee that their next picks will be as strong, but our 5 years of experience has been super profitable. They also claim that since inception, their average pick is up 609% and now we believe them. Many analysts are saying that we have passed the bottom of this COVID crisis and "certain" stocks will recover quickly and be the new leaders under a new President. So make sure you have the right stocks in your portfolio.
Normally the Fool service is priced at $199 per year but they are currently offering it for just $99/year if you click this link*
Updated as of June 12, 2021 -- The Motley Fool Stock Advisor did it again and was the Best Stock Newsletter of 2020--that's now four years in a row. If you were a Motley Fool subscriber last year you have a 76% return and 19 of those 24 stock picks were profitable. That includes having 6 of those stocks that have now at least DOUBLED! Their top performer was TESLA which is now up 609% since they recommended it in January 2020. In addition, their 2019 stock picks were awesome too and they are now up 111% compared to SP500's 52%; and their 2018 picks are up 208% (SP's 62%). Now for 2021, with a new President, a COVID vaccine, and the economy roaring back to life, most analysts expect the best part of the year is still to come! So... make sure you have the right stocks in your portfolio so you can CRUSH THE MARKET like their last 5 years of stock picks have done!
In fact, over the last 5 years the average Motley Fool stock pick has almost tripled, being up 191%! This time period covers the 2016 election, the Trump administration, the China trade negotiation, COVID, and now the Motley Fool is continuing their excellent stock picks with many off their 2021 stock picks already up double digits%. Don't miss out on the Motley Fool's next stock pick.  Here is their schedule for the next few weeks:
June 17, 2021 - David's New Stock Recommendation
June 24, 2021 - David's List of 5 Best Stocks to Buy Now List
July 1, 2021 - Tom's New Stock Recommendation
July 8, 2021 - Tom's List of 5 Best Stocks to Buy Now
FYI--Remember, not every one of their stock picks is a winner, BUT the average return of their last 120 stock picks is 191%. So if you have at least 5 years to invest, we haven't found any better source of stock picks. Remember, if you are not impressed, you can always cancel within 30 days.
CLICK HERE to get the next 24 Motley Fool's Stock Picks for just $99! *For new subscribers
---
---
Each recommendation comes with an in-depth, easy-to-understand analysis that tells you why you should consider any particular stock.
Here is what you get with Motley Fool Stock Advisor:
Ten starter stocks
The first recommendation for all new members is to consider the Stock Advisor's "starter stocks."
If you are a new investor, these stocks can help balance and diversify your portfolio.
Heck, if you are an experienced investor, these stocks are great for ANY portfolio.
Monthly Stock Picks
The Motley Fool is very "competitive," and the Stock Advisor team is no exception.
Stock Advisors are split into two teams who work to each identify one stock worthy of members' investment.
The teams compete to provide the best stocks and track the performance of each pick.
Each pick includes a thorough write-up about the investment thesis behind each team's choice, as well as potential risks.
The teams also pick five "best buys now" each month (a total of ten picks).
Each stock's underlying businesses look to be much stronger than the current price warrants.
For example, best buy stocks could include:
Companies that have hit a minor setback
Companies that have just reported great news
Best buys come with a short write-up detailing why the stock is a good investment at that time.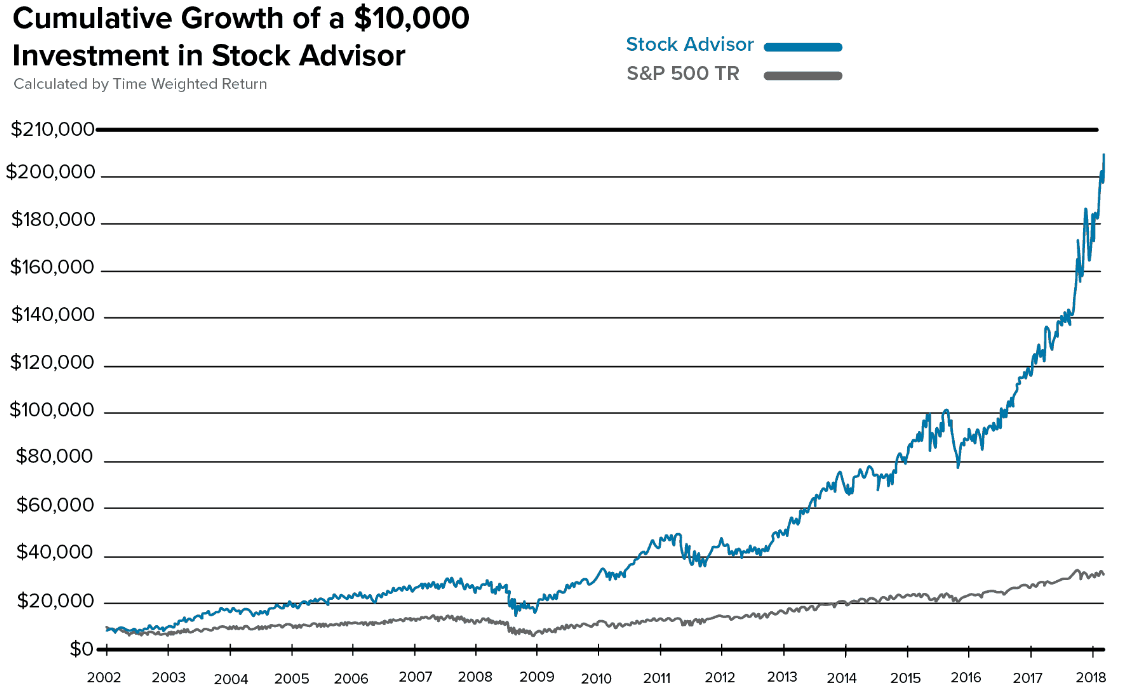 Updates on the Stock Advisor coverage universe
Stock Advisor is all about educating investors.
In addition to new stock picks, analysis, performance tracking, you also get quarterly updates on recommended stocks.
The company produces articles detailing what happened each quarter for Stock Advisor recommendations.
This analysis includes what went well, where each business is struggling, what management has to say, and anything else relevant to the investment.
Oh, and if there is news material enough to move the stock price 10% (up or down) in a single day…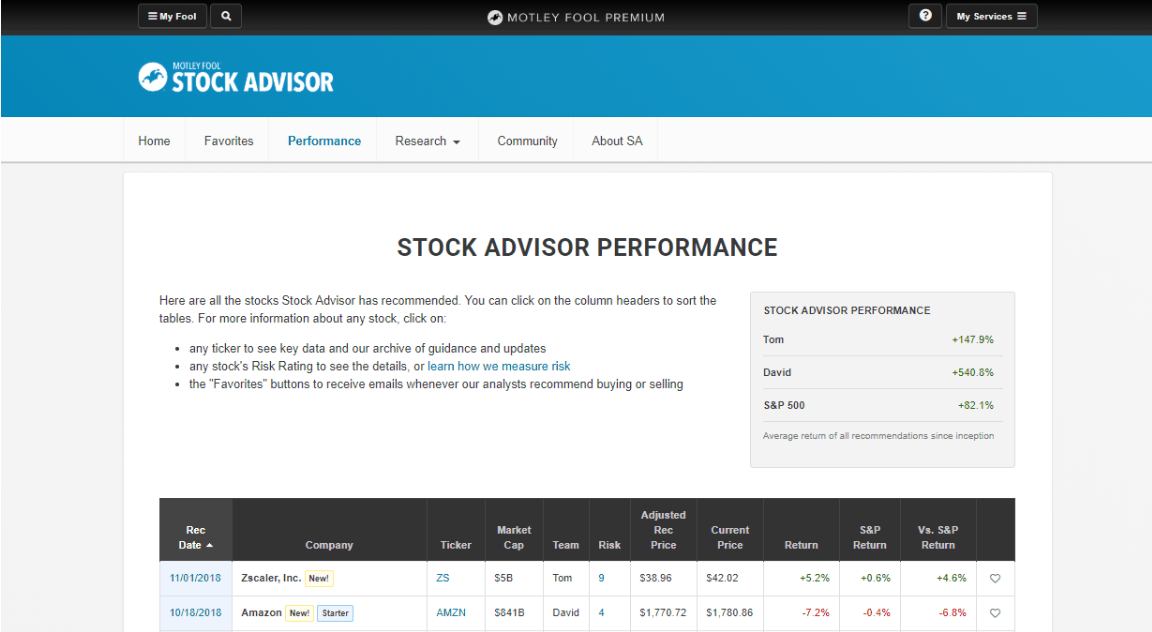 …Stock Advisor will cover the news immediately.
What else can you ask for?
Research reports on major investing trends
The Stock Advisor team is always looking for the next significant investment.
This "thing" could be artificial intelligence, driverless cars, or any number of things.
As such, the team will produce special reports detailing the opportunities and the best stocks to invest in these trends.
The team also comes equipped with a scorecard that is used to track your own investments.
Lastly, there are message boards with a robust community of thousands of Stock Advisor members. These members come together to talk about their:
Investing process;
What they are buying and selling; and
Anything they want!
Key Differences: Zacks vs. Stock Advisor
Zacks Premium gives users access to a variety of different stock picks.
These stock picks are ranked based on many different metrics (i.e., earnings).
Additionally, Zacks provides rankings of numerous funds to give investors an idea of whether to buy or sell.
The information provided by Zacks is an excellent source to base your investment research on going forward.
Motley Fool Stock Advisor, on the other hand, offers beginning and monthly stock picks.
If you are a newer investor, Stock Advisor is an excellent way to get your portfolio up-and-running.
If you are an experienced investor, Stock Advisor stock picks are an excellent basis for your research.
You can also gain insight into future trends and investments that you may have never considered.
So, what is the difference?
Zacks provides much more quantitative analysis on funds with the end-goal being profitable investments.
Stock Advisor provides more fundamental analysis on stock recommendations with the end-goal being profitable investments and
Each service differs to the point where both services can add value to your investments.
However, there is enough overlap where you could get away with choosing one source of information.
Zacks is excellent if you are somewhat familiar with investing and know what to with the data this company throws at you.
Stock Advisor is better for casual investors that could use additional guidance with their investments.
Both services are very good and accomplish the overall mission, which is to…
…make YOU a better investor!
So, Zacks Premium or Motley Fool Stock Advisor – which will you choose?
---
---
WALL STREET SURVIVOR'S BEST OF THE BEST LIST
*** Thursday, June 24, 2021 ALERT—Motley Fool Picks Still CRUSHING the SP500!****
The Motley Fool Stock Advisor's stocks picks, even with this COVID crisis, have been performing very well as of late.
Overall, their 24 stocks picks from 2020 are up 115% compared to the SP500 return of 25%.  Keep in mind, these FIVE very important tips regarding the Motley Fool Stock Picks.
Tip #1 is that you need to buy them as soon as you get the alert because the stocks typically rise 2-5% in the first 24 hours of the pick being released.
Tip #2 is that I buy about $2,000 of each pick and I immediately place a 20% stop loss order to control risk.  Two of their picks got stopped out in the last 12 months.
Tip #3 is that their next stock pick should come out Thursday, so make sure you have subscribe now so you are ready.
Tip #4 is to always read your emails from the Fool because they do tell you when to sell stocks.
Tip #5 is to use this link to their new subscriber page to save 50% (and get their next 24 stock picks for just $99 a year).* For new subscribers
---
---