What are the Best Stocks to Buy Right Now? To answer that question, we subscribe to dozens of investment newsletters, advisor services, and stock research tools to see what the smartest minds on Wall Street are saying. We also wake up early to scour the headlines to find the latest stock upgrades, earnings, and other news to help you find some ideas of the best stocks to buy today. Below are today's best stock headlines:


Today's Best Stock Headlines – October 7, 2022
The market predicts the Fed's next move after hotter than expected jobs report
October 5, 2022: Best Stock Ideas Headlines
October 3, 2022: Best Stock Ideas Headlines
September 30, 2022: Best Stock Ideas Headlines
September 28, 2022: Best Stock Ideas Headlines
September 26, 2022: Best Stock Ideas Headlines
September 23, 2022: Best Stock Ideas Headlines
September 21, 2022: Best Stock Ideas Headlines
September 19, 2022: Best Stock Ideas Headlines
September 16, 2022: Best Stock Ideas Headlines
September 14, 2022: Best Stock Ideas Headlines
September 12, 2022: Best Stock Ideas Headlines
September 9, 2022: Best Stock Ideas Headlines
September 7, 2022: Best Stock Ideas Headlines
September 5, 2022: Best Stock Ideas Headlines
September 2, 2022: Best Stock Ideas Headlines
August 31, 2022: Best Stock Ideas Headlines
August 29, 2022: Best Stock Ideas Headlines
August 26, 2022: Best Stock Ideas Headlines
August 24, 2022: Best Stock Ideas Headlines
August 22, 2022: Best Stock Ideas Headlines
August 19, 2022: Best Stock Ideas Headlines
August 17, 2022: Best Stock Ideas Headlines –
August 15, 2022: Best Stock Ideas Headlines –
August 12, 2022: Best Stock Ideas Headlines –
August 10, 2022: Best Stock Ideas Headlines –
August 8, 2022: Best Stock Ideas Headlines –
August 5, 2022: Best Stock Ideas Headlines –
5 Stocks to Buy Now That Are Set to Double
Each quarter Zacks Investment Research releases their analysts' picks for the 5 stocks that are likely to double. In general, the stocks they rate as a "Strong Buy" have an average annual return of 25.1% versus the stock market's average annual return of 11.2% over the last 34 years, so that gives them immediate credibility.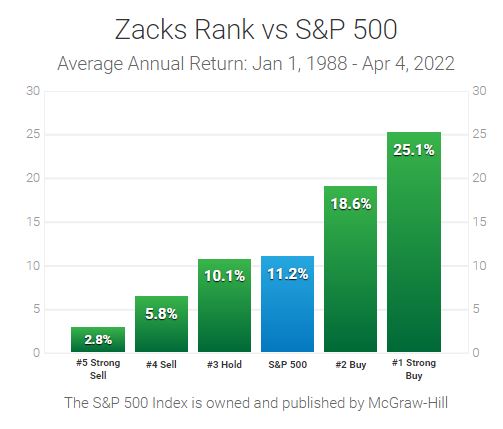 This is a list of stock they promote as "Likely to Double" and are some of their top rated "Strong Buy" stocks. Getting them is absolutely free; you just have to give them an email. No phone number, no credit card. You can get this list of Zacks recommendations to buy on this page. Their current list of 5 stocks includes:
Stock #1: Earnings Jumping by 10,050%?

"That's what analysts are predicting through year's end for this well-run oil mid-cap! It has one of the best balance sheets in the industry and is positioned to take advantage of high demand and rising prices."

Stock #2: Profiting from Modern Medicine's Great Discovery

"Gene editing aims to cure a multitude of diseases, and Zacks names one company to gain the most in months to come. Its upcoming data release and superior patent profile offers a huge opportunity for investors."

Stock #3: Stunning Gap Between Earnings and Stock Price

"This divergence always presents an opportunity, and a small pop culture consumer company plans to "completely disrupt its space." Already, over the past year, its earnings beats are averaging 160% per quarter."

Stock #4: Unheard of Record for New Product Launch

"Audiophiles love this consumer electronics company that blasted past forecasts for 15 years straight. Now it's coming off a patent win over a tech giant and a record week for new product registrations."

Stock #5: Riding Not 1 but 2 Booming Industries

"An ascending star in streaming TV and digital advertising, this tech stock has skyrocketed +1,200% since late 2017. Experts believe that some recent profit taking has set the stage for more stratospheric gains."
Find out what these 5 Zacks stocks that they think are likely to double on THIS PAGE.
The Motley Fool Stocks to Buy Recommendations
The Motley Fool is one of the most popular source of the stock picks with over 1,000,000 subscribers. Take a look at the performance of their Stock Advisor service since its launch in 2002.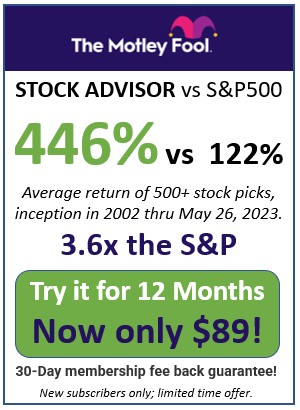 As you can see, since it's launch in 2002 this Motley Fool Stock Advisor service has crushed the SP500. That is the Holy Grail of investing. This is totally impressive given that most mutual fund managers on Wall Street struggle to beat the SP500 even for a single year.
This Motley Fool service works by recommending 2 unique stocks each month (that is what the chart above reflects). But each month you also receive several lists of the "Best Stocks to Buy Now."
But before you subscribe to the Motley Fool, keep in mind that they only want you to subscribe if you plan on holding their recommended companies to buy for at least 5 years, and that you will have at least 25 stocks in your portfolio.
If you want to see that Motley Fool list, you do need to subscribe. The price is normally $199 a year, but you can visit their sales promotion (usually 20-50% off) page to see their current offer for new subscribers.
It's always best to research stocks carefully before buying them. You should also make sure that they fit your investing objective. If you want to test some of these picks, then register for our FREE virtual trading account. When you register, we will give you $100,000 in play money to test your strategies.
STOCKS TO BUY NOW FOR BUY & HOLD STRATEGY
Finding the best stocks to buy is not easy because no one knows what the future holds. As the owners of WallStreetSurvivor, however, we want to help our users learn how to invest in the stock market and increase their confidence in their ability to manage their own portfolios. To help our users, 6 years ago we began purchasing dozens of the most popular stock newsletters to see if any stock adviser service could really outperform the market consistently. Next, we then set up virtual trading accounts (since that is what WallStreetSurvivor is all about) for each service and virtually traded all of the picks of all of the newsletters.
After our first year (2016), we saw that the Motley Fool Stock Advisor was our top performer.
And the top performer in 2017 was also the Motley Fool Stock Advisor.
And for 2018, the Motley Fool Stock Advisor won again.
Now guess who won for 2019 and 2020? Yes, the Motley Fool won again. Take a looks at the performance of the last 5 years of their stock picks as of the date in the chart….
Over the last 5 years, we can tell you that the 120 stock picks from the Motley Fool are now up, on average, 231%.
In conclusion, if you are looking for the best stocks to buy for a buy and hold strategy, we recommend the Motley Fool Stock Advisor. This service usually costs $199 a year, but if you are a new subscriber you should click here to get the next 12 months and 24 stock picks for just $79.
BEST STOCKS TO BUY NOW FOR GROWTH STRATEGY
The Motley Fool's Rule Breaker service has actually done better than the Fool's Stock Advisor service by a wide margin since January 2016.
While the Motley Fool's Stock Advisor service is the most popular service with over 1,000,000 paid subscribers, they have another service that actually outperforms their flagship Stock Advisor service.
Here are some of their recent picks and their performance so far (August 12, 2022):
January 2019 pick Skechers SKX is up 61% since their recommendation date.
January 2019 pick NexEra Energy NEE is up 33%
February 2019 pick GH is up 59%
March 2019 pick Redfin RDFN is down 3%
March 2019 pick Roku, ROKU is up 159%
April 2019 pick Five Below FIVE is down 7%
April 2019 pick Shockwave Medical SWAV is up 1%
May 2019 pick Salesforce CRM is up 4%
May 2019 pick UBER is down 27%
June 2019 pick NVCR is up 51%
August picks are up 16%
Their September picks are up 21 and 3%
Their October picks are up 22 and 25%
And their November picks are up 4 and 10%
Since January 2016 the average Rule Breaker stock is up 114% whereas the average return of a Stock Advisor pick is up 81%.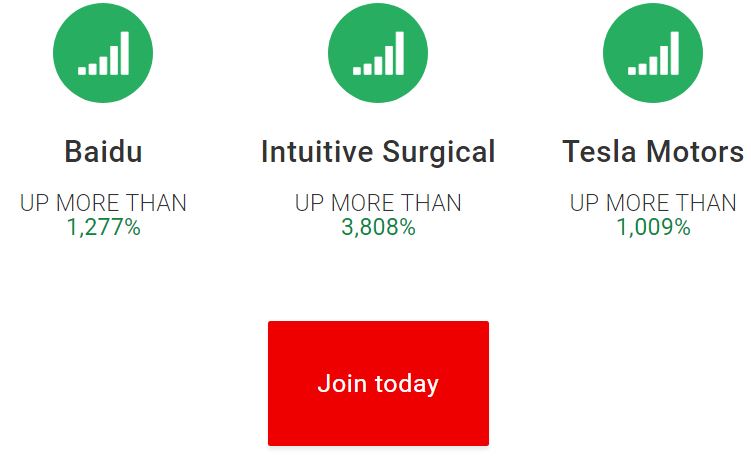 There is just one drawback, however. The Rule Breaker's picks have much more volatility than the Stock Advisor's picks. What I mean is that their are a wide variety of returns on the Rule Breakers picks since 2016 with the top being up 1500% but they also have several picks that have lost over 80%. That being said, though, if you did buy equal amounts of all of the Rule Breakers picks you would do 33% better than the Stock Advisor picks. But if you missed just one or two picks, your portfolio would have really missed out.
If you are a long term investor, click here to get the Rule Breakers latest picks.
BEST STOCKS TO BUY FOR 2022 (U.S. News & World Report)
Here is a list that was published in December 2021 of the
Best Stocks to Buy for 2022
(Source:
U.S. News
):
| | | |
| --- | --- | --- |
| COMPANY | Jan 4, 2021 PRICE | Dec 17, 2021 PRICE/CHANGE |
| | $1726.13 | |
| | $187.85 | |
| | $497.25 | |
| | $47.08 | |
| | $158.11 | |
| | $215.88 | |
| | $43.99 | |
| | $216.43 | |
| GRUPO AEROPORTUARIO DEL SURESTE S.A. DE C.V. | $160.79 | |
| | $268.94 | |
TYPES OF STOCKS TO BUY
Not all stocks are created equal, so finding the best stocks to buy has many answers.
The reality is that there are dozens of investing objectives and ways to evaluate stocks. Some people want stability, some want dividends and income, and some want growth.
There are also dozens of different industry sectors that are used to classify stocks. And each sector has different expected returns and volatility. For example, below are 2 of the most popular ones.
Energy Stocks
Energy stocks typically have to do with companies that are involved in the oil and gas industry. As you may have guessed, the price of oil is key and has a lot to do with profits in this industry. So, please be aware that stock prices in this industry show high variance. And speculation about the price of oil can lead to great profits or massive losses for investors.
Here is a list of some hot energy stocks for 2022 from Kiplinger.
| | | |
| --- | --- | --- |
| COMPANY | Jan 4, 2021 PRICE | Dec 17, 2021 PRICE/CHANGE |
| | $39.10 | |
| | $7.22 | |
| | $66.72 | |
| | $20.24 | |
| | $46.74 | |
| | $39.16 | |
| | $38.28 | |
| | $15.19 | |
| | $41.93 | |
Financial Services Stocks
This industry is where banks, funds, exchanges and brokerages are categorized. Most of these companies generate steady returns that mirror the general market sentiment. Also, they tend to pay a dividend. However, they are very sensitive to swings in the interest rates. When things are good, these stocks do well – when things are bad, they can mitigate the damage.
Here is a list of recommended financial services stocks from Forbes.
| | | |
| --- | --- | --- |
| COMPANY | Jan 4, 2021 PRICE | Dec 17, 2021 PRICE/CHANGE |
| | $216.43 | |
| | $122.05 | |
| | $349.32 | |
| | $29.46 | |
| INDUSTRIAL AND COMMERCIAL BANK OF CHINA | $11.56 | |
| | $29.17 | |
| | $29.30 | |
| | $231.92 | |
| | $13.71 | |
| | $66.28 | |
OTHER LISTS OF POPULAR STOCK RECOMMENDATIONS
Not sure where to go to find stocks? Check out these sites:
HOW TO FIND STOCKS TO BUY NOW
For starters, finding out what stocks to buy always involves a discussion about revenue growth, earnings growth, market volatility, company's valuation, overall business model, PE ratio, broader market conditions, etc. The price to earnings ratio of a company represents how much investors are willing to pay based on a company's profits on a per share basis. To put it simply, imagine a theoretical company that has a share price of $50, with earnings per share of $5. The PE ratio of this company is 10 because the price is 10 times greater than the earnings.
The PE ratio is a versatile measuring tool. Unlike revenue growth which is a straight percentage, the PE ratio varies by industry and fails to paint a detailed picture of a company's true situation. PE ratio can vary based on the expectations of a company's performance and can vary wildly. Use this to your advantage to swoop in when a company's PE ratio has gone down temporarily, and be wary of stocks with high PE ratios as that necessarily means that the stock price is high or profits or lower, or both.
Here's Some Tips to Find Stocks to Buy
Stick to what you know. If you don't understand what a company does, don't buy it. Every stock has an underlying business that is the real indicator of success or failure. If you understand that business, than you will have a greater rate of success.
If you can't decide which specific company to trade, then you can always invest in the SP500 ETF (ticker SPY) of the Dow Jones Industrial Average ETF (ticker DIA). This is always a safe bet, as long as you are planning to hold on to your investments for at least 5 years.
Beware the bubble. While investors would like to think they are reasonable and make sound investment decisions, this is not always the case. This irrational exuberance can lead to herd behavior where everyone jumps on the bandwagon. Beware the hype and stick to your guns.
Check out Modest Money's Stock Wizard and use their filters and categories to find the right stock for you.
The best way to read stocks is through dividend yield. A dividend is when a company pays out a sum of money to its shareholders. Dividends can be irregular, but most of the time they are paid out quarterly. Dividends are often distributed as a portion of the company's profits and are typically a safer investment than non-dividend paying stocks.
The dividend yield is pretty simple: take the dividends per share and divide by the price of that share and there you have it. Dividend yield represents how much cash flow one gets for each dollar they invest. A lot of investors prefer stocks with high dividend yield because they pay out cold hard cash.
Dividend yields can be seen almost as an interest rate earned on an investment. The reason dividend yields are so sought after has to with the fact that a company that pays out a steady stream of dividends is often very profitable. The longer the history of these dividends, the better, and more stable the investment becomes.
WHERE TO BUY STOCKS
So you want to start investing in the stock market and buy some stocks, but where do you start? Well, the obvious first thing you will need is to find a stockbroker. Brokers are professionals who are licensed to buy and sell stock from the market on your behalf. As you can probably tell, stockbrokers come in all shapes and sizes depending on your investing needs. They can fill all kinds of different orders and the more expensive ones provide analysis and recommendations.
For the beginner investor, we recommend going for an online or discount broker. That's because they offer the smallest barrier to entry. With online brokers you can start trading without even meeting someone face to face. All you have to do is call or chat to set up your account and within a few clicks you can start trading. There are tutorials to help you get started but it's pretty straight forward for the do it yourself type of person.
Discount brokers are a bit different. They are like online brokers but charge a small fee per transaction. While discount brokers are very similar to online brokers, they do provide a small amount of assistance such as company information and other helpful resources. Investors can start at the lower level with discount and online brokers and upgrade to full-service later on. Be prepared to fork over some cash for a full-service broker who will take the time to meet with you and perfect your investing strategy.