Some investors would rather step aside and let the experts manage their money.
Other investors like to take matters into their own hands.
If you are in the latter category, that is excellent news because it is an exciting time to be a stock market investor.
Why is it an excellent time to be an investor, you ask?
Because we are living in the golden age of stock market investing.
Today, there is unlimited information, which everyone can access…
…well, with the right tools.
If you do not have the right tools, you may be out of luck!
However, if you want to invest like the pros, there is a multitude of investment research tools out there.
Two of the most popular tools on the market are Yahoo Finance and Bloomberg Terminal.
But there are also a host of other platforms to choose from.
Unfortunately, platforms like Yahoo Finance and Google Finance are ill-equipped to meet your needs.
On the other hand, platforms like Bloomberg, CapIQ, and Factset will cost you an arm and a leg.
If only there were an investment research platform that is both:
Accessible; and
Useful.
Because investment research tools are too essential to lack the innovation and accessibility we enjoy in other areas of finance.
For example, it once cost  anywhere from hundreds to thousands of dollars to invest your money.
Today, you can trade stocks and manage your portfolio for free, on platforms like Robinhood and Webull.

If Robinhood and Webull can give you $0 stock trades…
…Atom Finance can also provide $0 investment research!
You can access Atom's financial modeling, portfolio tracking, news analysis, benchmarking, and discussion tools at no cost to you.
Atom Finance disrupts how financial media and reporting is consumed by you, the investor.
So, don't get left behind…
…find out how Atom Finance can keep you ahead of the game!
This Atom Finance review will include the following:
Overview
Features
Benefits
Are you ready?
Let's get into our Atom Finance review!
Atom Finance Overview
Atom Finance is a Brooklyn-based fintech company building the future of investment research.
What does the future of investment research look like?
The future is two-fold:
Modernization of investment research tools through an intuitive and easily-accessible platform; and
The democratization of access to institutional-quality investing tools once available only to investment professionals.
Surprisingly enough, the future of investment research is not here yet. Eric Shoykhet, Founder and CEO of Atom Finance, said it best:
"Right now, investors are stuck between researching via overpriced, clunky institutional platforms or through low-quality retail investor websites. We believe there is an opportunity to build a best-in-class investment research platform that caters to both sophisticated professionals and the mass market."
Shoykhet saw and seized the opportunity to "level the trading floor."
Even the best-in-class platforms lacked the usability that we've come to enjoy with consumer mobile apps.
In fact, Atom Finance claims that "Bloomberg hasn't made a significant change to its central product offering since 1982."
Fortunately, our long wait for change has come to an end.
Atom Finance has got you covered.
Atom Finance Features
We wouldn't have an Atom Finance review without discussing the features.
Atom Finance is available on the web, iOS, and Android apps.
Now, you can make informed investment decisions with cutting-edge investment research tools.
These platforms offer five products, which work together to guide your investing decisions with simplicity.
Sandbox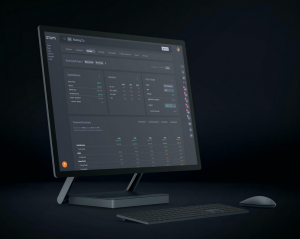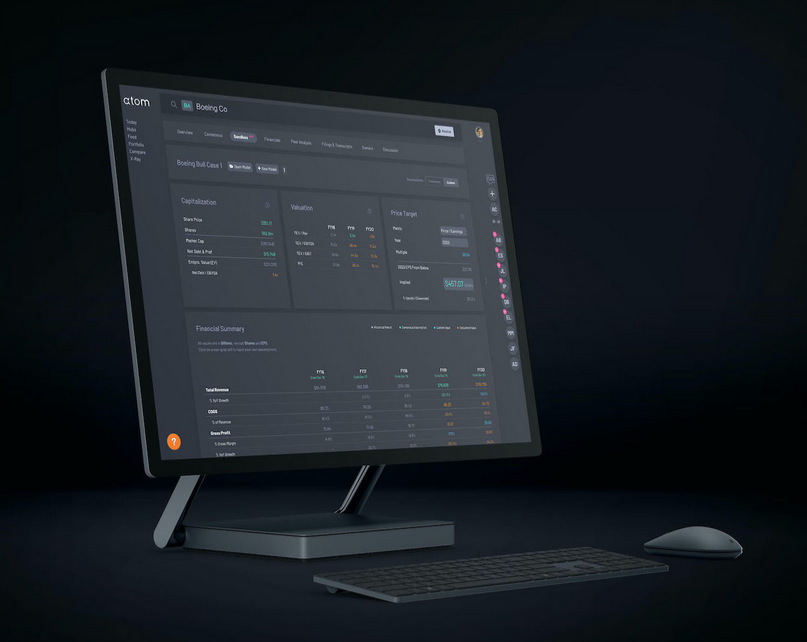 Ready to model a company in seconds?
You can create financial models instantly, pre-populated with consensus projections, and recalculate on the fly as you change assumptions.
Financials are always up-to-date when you go back to them.
These financial models are created directly in the platform and do not require you to export data to a spreadsheet.
This allows you to save time and prevent the manual refresh when there is new information.
With Sandbox, version control is now a thing of the past.
Portfolio
Atom Finance makes managing your portfolio a breeze.
You can track all your investment accounts in one place, in real-time.
Once you link your accounts, you will be able to see the following:
Real-time profit and loss statements;
Returns;
Holdings;
Trades; and
Portfolio statistics.
X-Ray
Could you use a financial research search engine?
With X-Ray, you can instantly uncover references to keywords and filter by company or sector within:
Atom Finance's trove of news;
SEC filings; and
Transcripts and analysis.
Compare
This tool provides you with benchmarking tables for comparing companies and sectors.
Collaborate
When it comes to investing, one of your best assets is your network.
The "Collaborate" feature provides access to discussion boards and group chats.
With these options, you can share insights with your fellow investors.
Other Features and Benefits
On top of its five main features, here are the other benefits exclusive to Atom Finance members:
Brokerage Integration
Track all your investment accounts in one place, in real-time.
Institutional-Quality News
See the stories that matter for any company, sector, industry, or topic, all in real-time.
Analyst Estimates
Get access to detailed consensus estimates, aggregated from analysts across the Street.
Historical Financials
Take a deep dive into corporate performance with a trove of historical financial data.
SEC Filings
Atom aggregates and organizes filings, so you don't have to.
Event Transcripts
Keep a pulse on corporate statements with earnings and event transcripts.
Market Commentary
Our pre-, mid- and post-market briefings cover earnings, M&A, macro, and more.
Professional Community
Collaborate with other investors using Atom's instant chat. Discuss one-on-one or with a group.
Real-time Quotes
Delayed prices are not acceptable. Quotes on Atom are displayed in real-time.
Custom Alerts
Create custom alerts for your stocks and your portfolio.
How to Get Started
If you are ready to become a better investor…
…it's time to get started with Atom Finance.
Here is how you get started:
Step 1: Download the mobile app (or access via web) and sign up for a free Atom Finance account.
Step 2: Link your investment accounts or create a personal stock watchlist.
Step 3: Receive a customized experience with real-time quotes, market briefings, price alerts, exclusive news, and more.
As a reminder, your account is totally free.
The only investment is five minutes of your time.
Final Thoughts
And thus, our Atom Finance review is over.
But we are not prepared to throw you out in the cold…yet.
So, let's recap.
Atom Finance is challenging the investment tools we have settled for in the past, such as Yahoo Finance (lacking) and Bloomberg (expensive).
So, what is the result?
Atom Finance provides a delightfully, more straightforward product that offers:
The depth of information you need to make informed decisions; and
The price tag you need to avoid breaking the bank.
Since its inception, the platform is gaining traction with 100,000+ new users.
The company is growing fast, which says something about how users feel about it.
The product is excellent for new and non-professional investors who want to manage their own investments.
Even if you are not a new investor, you may benefit from cost savings of this service.
The intuitive platform does not skimp on the information needed to make informed investment decisions.
On top of that, Atom Finance offers this for FREE to all users.
So, what do you have to lose?
Sign-up for Atom Finance today!
Do you already have experience with Atom Finance?
Do you prefer an alternative investment research tool?
Let us know with a comment below!