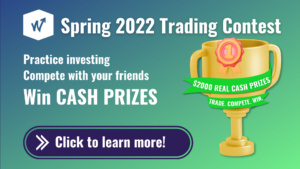 Let's be honest: 2022 has been a tough year for many investors.
Coming off of the longest recorded bull run in history, a worldwide pandemic, rising inflation, and emerging global conflict, it's safe to say there has been a lot of uncertainty and volatility in the stock market. We know there's a lot going on, and that's why we think it's a better time than ever to take a step back.
At Wall Street Survivor, we created virtual stock trading for times exactly like this.
Whether you're just starting out in the stock market, experimenting with new investing strategies, or re-evaluating your investing beliefs, virtual trading is the perfect way to experiment, learn, and practice in the real stock market, without risking your hard earned cash!
What if I told you, you could compete with your friends, and win real money, while you learn and practice?
Sign up today for a chance at $2000 in prizes!
Here's how it works
The contest starts Monday, April 4th and ends Friday May 27th.
Prizes
There are $2000 in prizes up for the taking in the Spring Trading Contest! Here's the breakdown:
Leader at the halfway point of the contest (April 29th): $250
First place overall: $1000
Second place overall: $500
Third place overall: $250
Leaders and winners are designated by largest overall portfolio returns.
Contest Calendar
April 4th: Contest Begins – SIGN UP HERE! April 29th: Halfway Point May 2nd: Winner of Halfway Point Prize Announced May 27th: Contest Ends June 2nd: Winner of the Spring 2022 Trading Contest Announced
If you're looking for options to up your trading game in order to snag those cash prizes, check out some of our partner companies that produce our favorite investment research tools. The
Motley Fool
is one of the best stock pickers out there, and their
Rule Breakers
list is full of high-growth stocks that can take your Wall Street Survivor portfolio to the next level.
Zacks
is one of the most popular investment research platforms on the market, and their extensive research tools can give you the power to truly understand what you're putting into your portfolio.
Contest Updates
Contest Rules
Each individual is allowed only one portfolio in any contest.
Winners will be contacted by email to receive their prize. This must be the email address associated with your account. If you need to change your email address, contact support@wallstreetsurvivor.com.
Every contest has a starting portfolio value of $100,000 USD, allows only US equities, ETFs, and cryptocurrency.
Day trading and short selling are permitted in all contests.
500 max trades per account.
25% position limit.
Margin trading is not allowed.
All winners will be audited, and disqualifications will take place at our team's sole discretion.
Winners must claim their prize within 30 days of the results being announced. Furthermore, if the prizes are not redeemed within 60 days, they will also be forfeited.
Recipients of our prizes must be residents of either the United States or Canada, excluding Quebec.
We may ask winners to provide a photo ID upon claiming their prize as part of our auditing process.
We can't wait to see you go for the gold in the Spring 2022 Contest! SIGN UP NOW and compete for $2000 in prizes!