Today, we are looking at the Motley Fool vs. The Market.
So, whether you are a…
High-volume day trader;
Long-term retirement investor; or
Brand new market novice seeking to find your place as an investor
…your goal is to optimize your returns and generate the most money from your investments.
One thing is true – everybody has a different level of risk tolerance and capital available to invest.
However, anyone can be a wise investor.
Wise investing simply requires discipline, research, and awareness of how the market behaves.
What if your goal is to consistently beat the return of the market?
What if your goal is to invest in stocks that will generate stellar returns for years to come?
Both of these things are very possible.
So, if it sounds too good to be true…
…it isn't.
Today, we're going to discuss:
How the market has performed; and
What you can do to significantly increase your returns.
Market Performance
So, how does Motley Fool vs. The Market compare?
Before we jump into how to beat the market…
…it's best to understand how the market has performed over the years.
The S&P 500 is commonly referred to as "the market" in discussions of stock market performance and economic growth.
The S&P 500 is comprised of the 500 largest companies in the United States; best on market capitalization or market cap is the total amount of money invested in the company if you multiplied its share price by shares outstanding in the market.
Companies in the S&P 500 include:
Apple;
Google;
General Motors; and
Johnson & Johnson.
Since there are so many different companies in different industries…
…the S&P 500 is a stable metric for measuring the success of the entire US market.
However, since it is so diversified, the returns have been decent, but not great.
This is where professional stock advisors and newsletters come into play.
The Motley Fool is one of the:
Highest performing; and
Most reputable stock-picking services around.
Did you know…
…and they have been beating the S&P 500 for years?
Motley Fool History


The Motley Fool was founded in 1993 by brothers Tom and David Gardner.
In the 1990s, there were few, if any, adequate resources for average investors looking for quality stock investment advice.
Wall Street professionals had access to Bloomberg and expensive and exclusive research materials from the top analysts available to them.
However, the average investor did not have reliable data to make wise investment choices.
This lack of information inspired the Gardner brothers to launch the Motley Fool.
in a newsletter designed to provide excellent investment advice for everyday investors
Their concept started out small but quickly gained traction due to their high-level research and accessible marketing strategy.
Stock Advisor Overview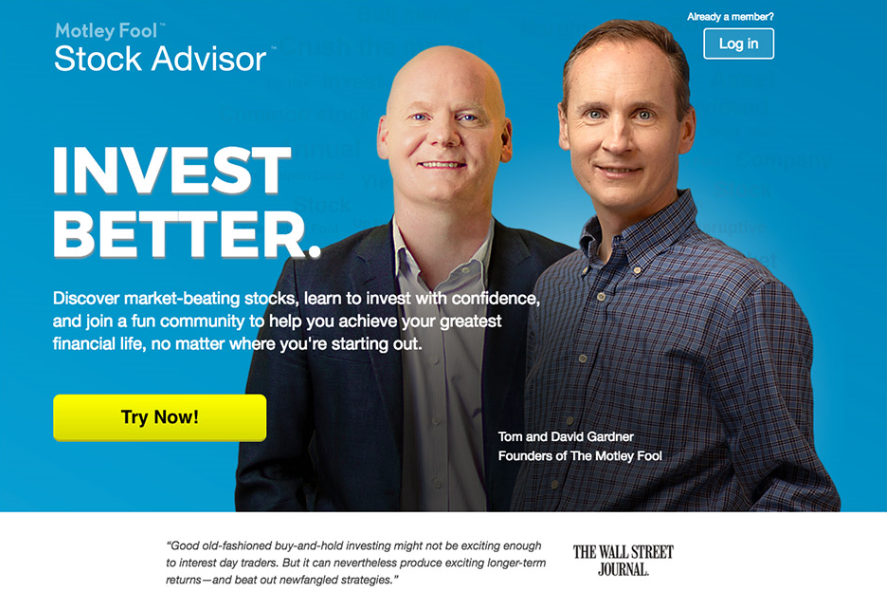 In 2002, Tom and David launched the subscription-based Stock Advisor service.
For $99 a year, subscribers receive access to:
A monthly newsletter;
Members-only forum;
Discounts on other services; and
much more.
The primary benefit of a Stock Advisor subscription is the two monthly stock picks from the founding brothers.
Tom and David have unique investment perspectives.
One brother focuses more on fundamental research and the other focuses on technical growth companies.
This combination yields two very different styles of investment analysis where the subscriber is the primary beneficiary.
Tom and David spend the month researching potential investments with their teams.
At the end of the month, the brothers submit their top pick for that month's newsletter.
The brothers also provide…
Data,
Research methodology, and
Other documents
…to arrive at a decision for the subscribers.
This is a great benefit because the readers learn about potential investments and how the experts choose their recommendations.
Members also receive other stock picks from Motley Fool analysts with supporting research similar to Tom and David's two top picks.
One of the best perks of a Stock Advisor subscription is access to the starter stock list.
The starter stock list is a curated portfolio of ten companies, in various industries, that have performed well over the years.
---
---
*** SPECIAL ALERT -- Monday, May 17, 2021 -- MOTLEY FOOL STOCK ADVISOR RECAP–2020 YEAR END SUMMARY (ONE STOCK HAS GONE UP BY 848%!) ****
The year 2020 is finally over. It was tough in so many obvious ways, but if you were a Motley Fool subscriber you are smiling given that 22 of the Motley Fool's 24 stock picks from 2020 are up; and the average return of those 24 picks thru Feb 5, 2021 is +115% compared to the SP500's 25% meaning you BEAT the market by 90% this year!
We have been tracking ALL of the Motley Fool stock picks since January 2016. That's 5 years, 60 months and over 120 stock picks. As of Friday, February 12, 2021, NINE of their 24 stocks picks from 2020 have already more than doubled (NVTA, ZM, SHOP, ZM (picked 2x), CRWD (picked 2x) and FVRR) and another one (TSLA) has increased 848%. In addition, 12 of their 2019, 13 of their 2018, 12 of their 2016 and 15 of their 2016 picks have also more than doubled. Best of all, over these 5 years, the average stock pick is up 230%. That beats the SP500's 58%. And that's even accounting for all of this COVID mess that has wreaked havoc on most stocks. BUT, the Fool has done so well because they quickly identify stocks year that will perform well in the current environment. THAT is how the Fool consistently does so well--they adapt and constantly pick stocks before everyone else realizes the opportunities.
Tesla (TSLA) picked January 2, 2020 before the crash and it is up 848%
Shopify (SHOP) picked March, 2020 and it is up 320%
CrowdStrike (CRWD) picked July, 2020 and it is up 125%
Fiverr (FVRR) originally picked September, 2020 and it is up 177%
** If you had been a subscriber, then you would have these profits as of Februqry 12, 2021
Now, no one can guarantee that their next picks will be as strong, but our 5 years of experience has been super profitable. They also claim that since inception, their average pick is up 609% and now we believe them. Many analysts are saying that we have passed the bottom of this COVID crisis and "certain" stocks will recover quickly and be the new leaders under a new President. So make sure you have the right stocks in your portfolio.
Normally the Fool service is priced at $199 per year but they are currently offering it for just $99/year if you click this link*
Updated as of April 18, 2021 -- The Motley Fool Stock Advisor did it again and was the Best Stock Newsletter of 2020--that's now four years in a row. If you were a Motley Fool subscriber last year you have a 82% return and 20 of those 24 stock picks were profitable. That includes having SIX of those stocks that have now at least DOUBLED! Their top performer was TESLA which is now up 760% since they recommended it in January 2020. In addition, their 2019 stock picks were awesome too and they are now up 118% compared to SP500's 49%; and their 2018 picks are up 215% (SP's 60%). Now for 2021, with a new President and a COVID vaccine, most analysts expect the market to continue up, but make sure you have the right stocks in your portfolio so you can CRUSH THE MARKET like their last 5 years of stock picks have done!
In fact, over the last 5 years the average Motley Fool stock pick has almost tripled, being up 197%! This time period covers the 2016 election, the Trump administration, the China trade negotiation, COVID, and now the Motley Fool is continuing their excellent stock picks with one of their 2021 stock picks already up 23%. Don't miss out on the Motley Fool's next stock pick.  Here is their schedule for the next few weeks:
May 6, 2021 - Tom's New Stock Recommendation
May 13, 2021 - Tom's List of 5 Best Stocks to Buy Now
May 20, 2021 - David's New Stock Recommendation
May 27, 2021 - David's List of 5 Best Stocks to Buy Now List
FYI--Their October, November and December picks are already up 85%, 71%, and 43%. And remember, if you are not impressed, you can always cancel within 30 days and get a full refund.
CLICK HERE to get the next 24 Motley Fool's Stock Picks for just $99! *For new subscribers
---
---
Who Can Benefit from Stock Advisor?
Regardless if you are…
An experienced investor with years under your belt; or
A novice seeking to learn more about the markets
…the starter stock list is an excellent resource for all investors.
Identifying new investments can be difficult, especially if you are not familiar with a particular industry like tech or manufacturing.
This is where the starter stock list becomes invaluable.
Since the starter stock list is curated from many industries, you will receive quality investment recommendations with supporting research.
These investment recommendations will help you learn more about a new sector without having to reinvent the wheel.
Other stock advisor benefits include:
Forum access to discuss investments with other members of the Motley Fool;
A backlog of research and other articles to help with your analysis; and
Much more.
Finally, subscribers receive special offers for some of the motley Fool's other services.
These "other services" include things like the growth-oriented Rule Breakers and the personal finance service, The Ascent.
Motley Fool vs. The Market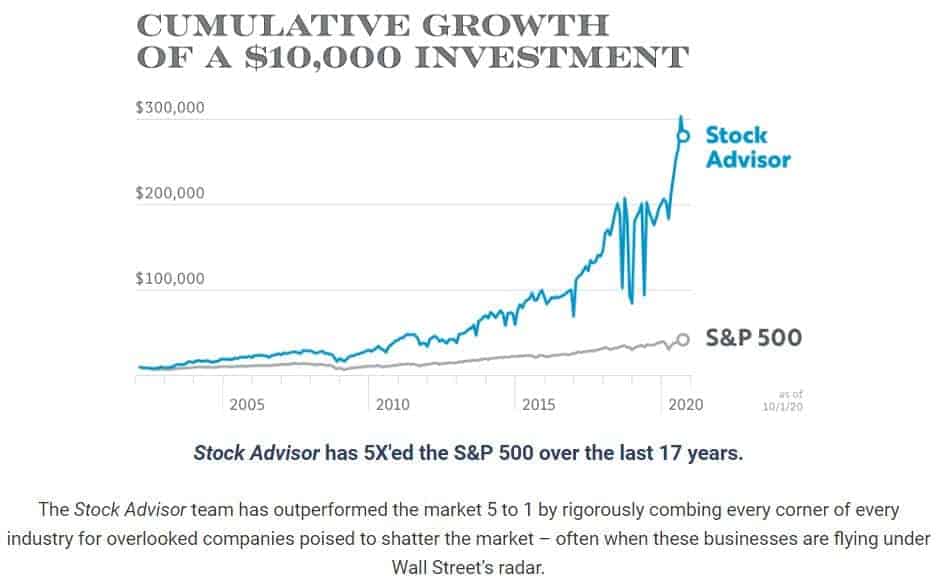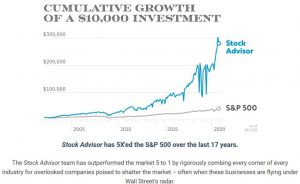 Since 2002:
Stock Advisor's stock picks have returned over 500% versus the S&P 500, which has returned 100% in the same period.
How is this possible?
Two things:
Specialized research; and
Recommending stocks with enormous growth potential.
Another way to look at it is that the Motley Fool is quick to notice market trends and does an excellent job of recommending stock leaders in their markets.
Some examples include:
Tesla (TSLA) up over 700% since they picked it.
Trade Desk (TTD) up over 300% since they picked it
Wix (WIX) up over 99% since they picked it
Netflix (NFLX) up over 70% since they picked it
And many more.
The Motley Fool team comprises professional analysts who work around the clock to identify unique investment opportunities.
These analysts will discard options that may seem profitable on the surface, but lack strong fundamentals upon further investigation.
Additionally, the Motley Fool looks at companies of all market capitalization and industries.
This is an essential factor that allows them to consistently beat the S&P 500 because they are not tied to one specific index.
There is a common misconception that beating the market requires stock pickers to choose the highest performing companies within the index itself.
Regardless, the reality is there are excellent small and medium-sized public companies generating stellar returns that you would not think to research in the first place.
The Motley Fool shines in this regard because will recommend an established company like Apple (AAPL)…
…but they will also recommend disruptive companies like Zoom Video (ZM).
This balance between traditionally high-performing FAANG stocks and identifying new trendsetters is what sets the Motley Fool apart from their competition.
This strategy allows them to make market-beating picks year after year.
Tying it Together
As you can see, the Motley Fool has the pedigree and performance to back up its market-beating claims.
You can merely invest in the S&P 500…
…or you can maximize your market returns with the Motley Fool!
The company continues to crank out exceptional value in its investment research and monthly newsletters.
For $99, it's hard (if not impossible), to beat the value of a Stock Advisor subscription.
Why?
Because similar, less-robust services can cost ten times as much, while also providing lower performance.
Oh, and you can't overlook the Motley Fool's legendary money-back guarantee.
So, why should you try the Motley Fool Stock Advisor?
It outperforms the market on a regular basis;
It is cheaper and better than most other services; and
If you don't like it, you can get your money back.
If you are looking for an excellent stock recommendation service with comprehensive investment tools and resources…
…it is time to give Motley Fool Stock Advisor a chance!
---
---
WALL STREET SURVIVOR'S BEST OF THE BEST LIST
*** Monday, May 17, 2021 ALERT—Motley Fool Picks Still CRUSHING the SP500!****
The Motley Fool Stock Advisor's stocks picks, even with this COVID crisis, have been performing very well as of late.
Overall, their 24 stocks picks from 2020 are up 115% compared to the SP500 return of 25%.  Keep in mind, these FIVE very important tips regarding the Motley Fool Stock Picks.
Tip #1 is that you need to buy them as soon as you get the alert because the stocks typically rise 2-5% in the first 24 hours of the pick being released.
Tip #2 is that I buy about $2,000 of each pick and I immediately place a 20% stop loss order to control risk.  Two of their picks got stopped out in the last 12 months.
Tip #3 is that their next stock pick should come out Thursday, so make sure you have subscribe now so you are ready.
Tip #4 is to always read your emails from the Fool because they do tell you when to sell stocks.
Tip #5 is to use this link to their new subscriber page to save 50% (and get their next 24 stock picks for just $99 a year).* For new subscribers
---
---