Do you remember the times of Apple product events?
Well, these events still occur – they are just far less exciting.
In earlier times, everyone would tune in to see the next Steve Jobs creation.
Today, those same events are not the same (it's not Tim Cook's fault, either).
But many would even say that the product events are downright boring.
But what does "boring" mean for Apple?
Boring simply means that you can skip the next Apple reveal and do something better with your time.
Although, COVID-19 has everyone doing some wild things for "entertainment" these days.
And if watching the reveal of slightly better iPhone, iPad, or streaming services entertains you – then go for it.
What does the boringness mean for Apple.
Or maybe the better question is…
…what is next for Apple stock?
It's hard for anyone to provide an answer with any certainty.
The company has investors eating out of the palm of its hand at this point.
Is that a good thing?
It is hard to say for sure.
Fortunately, we have got some allies on our side.
Those allies are Tom and David Gardner with the Motley Fool.
We believe the Motley Fool has an idea of what is next for Apple.
Why should you listen to the Motley Fool?
Because David Gardner recommended Apple stock back in 2008!
Did you see Apple's success coming?
Maybe. Maybe not.
Apple seems like surefire winner today…
…but the company had not yet released the iPhone in 2008.
Once Apple released the iPhone, it was off to the races.
However, Apple is not the same company it was five years ago, much less twelve years ago.
In 2020, Apple no longer views the iPhone as its primary driver of revenue in the future.
This has some people skeptical about Apple's long-term viability.
On the other hand, many investors think Apple is here to stay.
What do you think?
Don't be so quick to answer.
Today, we are going to ponder whether Apple is a "buy" today.
---
---
*** SPECIAL ALERT -- Friday, June 25, 2021 -- MOTLEY FOOL STOCK ADVISOR RECAP–2020 YEAR END SUMMARY (ONE STOCK HAS GONE UP BY 848%!) ****
The year 2020 is finally over. It was tough in so many obvious ways, but if you were a Motley Fool subscriber you are smiling given that 22 of the Motley Fool's 24 stock picks from 2020 are up; and the average return of those 24 picks thru Feb 5, 2021 is +115% compared to the SP500's 25% meaning you BEAT the market by 90% this year!
We have been tracking ALL of the Motley Fool stock picks since January 2016. That's 5 years, 60 months and over 120 stock picks. As of Friday, February 12, 2021, NINE of their 24 stocks picks from 2020 have already more than doubled (NVTA, ZM, SHOP, ZM (picked 2x), CRWD (picked 2x) and FVRR) and another one (TSLA) has increased 848%. In addition, 12 of their 2019, 13 of their 2018, 12 of their 2016 and 15 of their 2016 picks have also more than doubled. Best of all, over these 5 years, the average stock pick is up 230%. That beats the SP500's 58%. And that's even accounting for all of this COVID mess that has wreaked havoc on most stocks. BUT, the Fool has done so well because they quickly identify stocks year that will perform well in the current environment. THAT is how the Fool consistently does so well--they adapt and constantly pick stocks before everyone else realizes the opportunities.
Tesla (TSLA) picked January 2, 2020 before the crash and it is up 848%
Shopify (SHOP) picked March, 2020 and it is up 320%
CrowdStrike (CRWD) picked July, 2020 and it is up 125%
Fiverr (FVRR) originally picked September, 2020 and it is up 177%
** If you had been a subscriber, then you would have these profits as of Februqry 12, 2021
Now, no one can guarantee that their next picks will be as strong, but our 5 years of experience has been super profitable. They also claim that since inception, their average pick is up 609% and now we believe them. Many analysts are saying that we have passed the bottom of this COVID crisis and "certain" stocks will recover quickly and be the new leaders under a new President. So make sure you have the right stocks in your portfolio.
Normally the Fool service is priced at $199 per year but they are currently offering it for just $99/year if you click this link*
Updated as of June 12, 2021 -- The Motley Fool Stock Advisor did it again and was the Best Stock Newsletter of 2020--that's now four years in a row. If you were a Motley Fool subscriber last year you have a 76% return and 19 of those 24 stock picks were profitable. That includes having 6 of those stocks that have now at least DOUBLED! Their top performer was TESLA which is now up 609% since they recommended it in January 2020. In addition, their 2019 stock picks were awesome too and they are now up 111% compared to SP500's 52%; and their 2018 picks are up 208% (SP's 62%). Now for 2021, with a new President, a COVID vaccine, and the economy roaring back to life, most analysts expect the best part of the year is still to come! So... make sure you have the right stocks in your portfolio so you can CRUSH THE MARKET like their last 5 years of stock picks have done!
In fact, over the last 5 years the average Motley Fool stock pick has almost tripled, being up 191%! This time period covers the 2016 election, the Trump administration, the China trade negotiation, COVID, and now the Motley Fool is continuing their excellent stock picks with many off their 2021 stock picks already up double digits%. Don't miss out on the Motley Fool's next stock pick.  Here is their schedule for the next few weeks:
June 17, 2021 - David's New Stock Recommendation
June 24, 2021 - David's List of 5 Best Stocks to Buy Now List
July 1, 2021 - Tom's New Stock Recommendation
July 8, 2021 - Tom's List of 5 Best Stocks to Buy Now
FYI--Remember, not every one of their stock picks is a winner, BUT the average return of their last 120 stock picks is 191%. So if you have at least 5 years to invest, we haven't found any better source of stock picks. Remember, if you are not impressed, you can always cancel within 30 days.
CLICK HERE to get the next 24 Motley Fool's Stock Picks for just $99! *For new subscribers
---
---
What is next for Apple?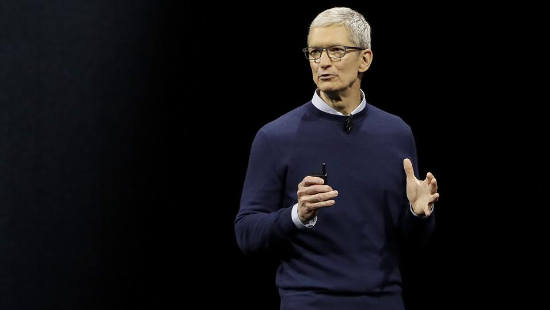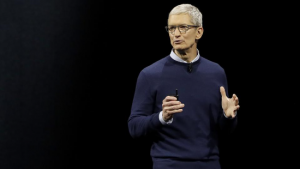 You may be wondering which direction Apple is headed toward.
Many investors are skeptical whether Apple has another climb left in the tank.
This consideration is especially important ahead of Apple's 4-for-1 stock split later this month.
So, let's take a look at the company's recent history.
Apple became a $1 trillion company back in 2018.
At the time (two long years ago), crossing this threshold was an incredible feat.
However, investors could not have fathomed that Apple would add another $1 trillion to its value over the following two years…
…but it just happened.
Apple made headlines in August 2020 after becoming the first U.S. public company to achieve a $2 trillion market cap.
The company even beat out the likes of Amazon and Microsoft, with a $1.65 trillion and $1.59 trillion valuation, respectively.
The stock is up 133% over the past 12 months and has garnered even more attention from individual investors.
These gains include 59% in 2020 (so far), and 86% in 2019.
For some people, these numbers mean STAY AWAY.
For other people, these numbers represent expected success now, and in the future.
There is no doubt Apple has momentum on its side.
Momentum is on Apple's side…
It's no secret that Apple's services business is growing rapidly.
So, what does the service business include?
It includes revenue generated from third-party app sales and subscriptions.
These services include iTunes, the App Store, Apple Music, Apple TV, Apple Pay, AppleCare, iCloud, and much more.
With COVID-19, Apple saw a surge in users of the company's many services (because we need to entertain ourselves somehow).
Additionally, there is advertising in the App Store and other recurring revenue streams.
The profitable segment appears to be poised to grow at double-growth rates for years to come.
This particular segment boasts a much higher gross profit margin than Apple's product sales.
Additionally, the service sales are recurring, making these sales more dependable than others.
Not only are these sales dependable, but they make Apple less dependent on new product launches.
As the service business grows, investors are willing to pay a higher premium for Apple's earnings.
Here is a breakdown of why investors are flocking to Apple:
Services revenue is growing. Total services revenue increased 15% year over year in fiscal Q3 versus product revenue of 10%.
The segment has strong growth margin. In fiscal Q3, the segments growth margin was 67% compared to the products' gross margin of 30%.
Services revenue is becoming more important. The segment accounted for 39% of fiscal Q3's total gross profit versus 36% one year ago.
As you can see, the segment is growing, and with a higher profit margin than the product revenue streams.
So, what does this mean?
Apple's services revenue streams can help drive significant growth for the company in years to come.
Let's discuss Apple's impressive valuation…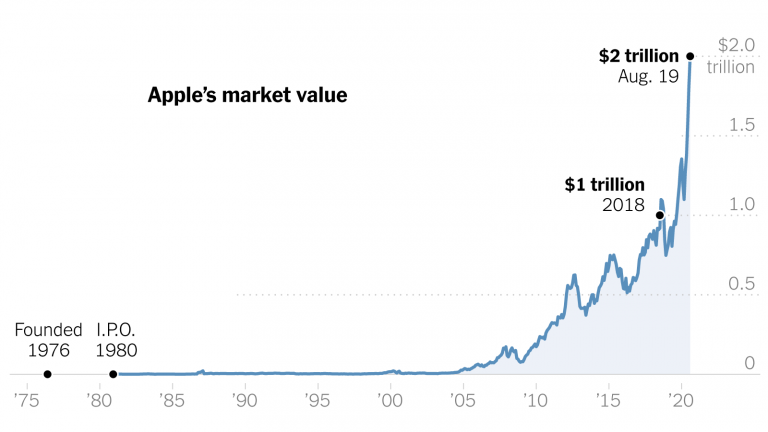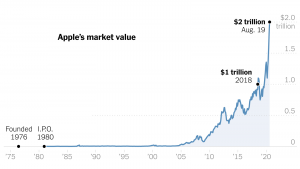 The momentum is certainly on Apple's side.
However, one must carefully consider…
…is Apple a "buy" right now?
The momentum is promising, and the services revenue appears strong.
Regardless, the $2 trillion valuation is becoming difficult to justify.
We are not completely ready to call Apple a definite buy today.
Apple now has a price-to-earnings ratio of 37.
To quantify this figure, Apple would need to grow its earnings per share (EPS) between 13% and 15% annual for the next five years.
After those five years, the company would need to continue to grow at a similarly rapid pace.
Analysts have the stock averaging compound earnings-per-share growth of around 12.5% over the next five years.
While the $2 trillion valuation may seem exciting, it is important to remember that it means nothing.
Is Apple stock a buy?
We said we weren't sure if Apple would be a buy today.
Apple has many things going for it.
For starters, Apple's ascent has been extraordinary.
Let's face it – the $2 trillion market cap is not cheap…
…but in today's day and age, it's also not insane.
The same factors that propelled the company to a $2 trillion valuation may be what keeps the needle moving on future success.
The tech company's ability to leverage its user-base to generate significant revenue and income will help the company continue its success.
However, if you think the iPhone 12 will be a disappointment, then you should sell.
If you think the services revenue will come to a grinding halt, then you should sell.
Or you could listen to the guys who recommended Apple stock back in 2008.
I am not sure you about, but when one of the BEST growth investors gives me a trading tip — I take it!
You can get these same tips because the Motley Fool recommends stocks monthly!
Motley Fool co-founders, Tom and David Gardner, are not shy about re-recommending a stock either.
Did you miss out in 2008?
Don't worry – you are in good company!
But at this point, you can't afford to have another swing and miss on Apple.
For that reason, you need help.
You need these "Fools" to guide you to the promise land.
Tom and David are getting ready to reveal two brand new stock recommendations.
These two brothers have tripled the stock market's return over the last 17 years.
I think it's safe to say that it PAYS to get in early on their ideas.
Are you skeptical?
Don't be.
The Motley Fool offers a 30-day money-back guarantee on all products and services.
That is right – you can test them out 100% risk free.
You have NOTHING to lose by signing up.
At worst, you will get one FREE month of stock recommendations from two of the best investors around.
Sign up for the Motley Fool and see whether Apple stock is a good buy.
---
---
WALL STREET SURVIVOR'S BEST OF THE BEST LIST
*** Friday, June 25, 2021 ALERT—Motley Fool Picks Still CRUSHING the SP500!****
The Motley Fool Stock Advisor's stocks picks, even with this COVID crisis, have been performing very well as of late.
Overall, their 24 stocks picks from 2020 are up 115% compared to the SP500 return of 25%.  Keep in mind, these FIVE very important tips regarding the Motley Fool Stock Picks.
Tip #1 is that you need to buy them as soon as you get the alert because the stocks typically rise 2-5% in the first 24 hours of the pick being released.
Tip #2 is that I buy about $2,000 of each pick and I immediately place a 20% stop loss order to control risk.  Two of their picks got stopped out in the last 12 months.
Tip #3 is that their next stock pick should come out Thursday, so make sure you have subscribe now so you are ready.
Tip #4 is to always read your emails from the Fool because they do tell you when to sell stocks.
Tip #5 is to use this link to their new subscriber page to save 50% (and get their next 24 stock picks for just $99 a year).* For new subscribers
---
---