Are you looking to "hit it big" in the stock market?
I know, I know – who isn't looking to do just that?
But you will have difficulty doing this buying shares of Amazon, Apple, Walmart, and many other household names.
Not only do these stocks see minimal price increases over the short run…
…they can be downright expensive to purchase!
If you want to get started trading, but don't have much money, why not consider penny stocks?
Penny stocks are ideal for investors with small accounts because they are low-priced.
Before you go out and start trading, read on to decide if penny stocks are the right investment for you.
What is a Penny Stock?
Penny stocks are low-priced, small-cap stocks.
However, contrary to popular belief, penny stocks rarely cost a penny.
So, what constitutes a penny stock?
Well, the definition has evolved with the stock market.
In the past, penny stocks were defined as stocks that traded for less than $1 per share.
But nowadays, the SEC classifies a penny stock to be basically anything under $5 per share.
A penny stock normally trades outside of the major market exchanges at a low price and with a small market cap.
The typical penny stock is a small company with highly illiquid and "risky" shares.
Additionally, these companies are generally subject to limited listing requirements and fewer filing and regulatory standards.
However, there are under-$5 stocks trading on exchanges like the NYSE and NASDAQ, but most investors do not think of these when thinking about penny stocks.
Are penny stocks DANGEROUS?
Yes – penny stocks can be dangerous.
However, over the past several years…
…even investments considered to be "safe" have been discovered to be dangerous.
These safe investments include things like mutual funds.
The key to protecting your account is to cut your losses as quickly as possible when you find yourself going in the wrong direction.
Additionally, when you have a small account, you need to take more risk to grow at a faster rate.
If you have a small account, you need to take more risk to grow your account.
Otherwise, you will be wasting your time investing/trading because you will see minimal gains.
There are far too many "safe" investors that spend countless hours researching and debating only to make almost nothing in return!
In short: anything can be dangerous!
It is up to you as an investor to take smart risks and grow your account.
Penny Stock Newsletters
As you can imagine, there are tons of penny stock newsletters out there.
Comparing the newsletters will likely leave you confused and frustrated about which to choose.
So, what are the good, the bad, and the downright ugly options?
We can't possibly give you these options because there are too many!
However, we can help you sort through these newsletters by determining what to look for in the first place.
Begin by considering the following topics:
Education
Unless you are an expert on penny stock trading, education is one of the most vital components of your newsletter.
As such, it is essential to find newsletters that give you access to education materials on penny stock investing (or investing, in general).
Keep in mind that some publishers work better for intermediate and advanced investors.
On the other hand, there are plenty of newsletters that work better for beginners.
Ideally, you will be honest about your level of knowledge and choose a newsletter accordingly.
Support
What type of investor are you?
Do you like to have access to support groups or are you better of flying solo?
Some investors need plenty of support while others can do without.
Having access to support groups (i.e., forum, bulletin board) where you can share ideas and strategies can be a significant benefit.
Having this benefit gives you the ability to interact with and improve your overall skills with other members.
You can also build upon your own skillset by teaching less experienced investors.
Penny Stock Picks
The picks that your newsletter delivers may be the most important reason to subscribe.
You want your newsletter to do the heavy lifting for you.
This benefit requires great "penny stock" picks, right?
But remember, there is no single newsletter that picks penny stocks with a 100% success rate.
If any newsletter claims to have a 100% success rate – you need to run the other way!
What you want is a newsletter that picks more winners than it does losers.
Most newsletters will give you the opportunity to preview their product or get e-mail alerts.
To test any particular newsletter, try subscribing for these alerts and see how each stock pick performs.
From there, you can determine if the newsletter is worth it or not.
Money-back Guarantee or Free Trial
Most penny stock newsletters that are worth your time will have some type of free trial or money-back guarantee.
If the company stands by their product, why wouldn't they offer something like this?
Avoid committing to any upfront payments, payment plans, or anything else until you are sure.
However, not all penny stock newsletters that lack this feature are bad – but again, be sure you are buying into something that is legitimate.
Check the Disclosures
This is an important topic – so do not skip this section!
There are newsletters out there that are compensated by companies for recommending their stock to subscribers.
For example, if a penny stock newsletter recommends 'Company ABC' it is because Company ABC is paying them to recommend their stock.
For this reason, you should read the fine print because newsletters will make this disclosure.
Are you ready to get started?!
If you are ready to get started trading penny stocks…
…we recommend that you start with Tim Sykes!
Tim Sykes – Teaching PENNY STOCKS
Tim Sykes is a self-made multi-millionaire and the #1 ranked trader out of 60,000+ from 2008-2011.

Sykes began trading in high school and turned $12,000 into $4 million.
However, aside from making money for himself, Sykes has set out to educate others on his craft.
Sykes has thousands of students in over 60 countries and has been featured on:
His philosophy is not just making money, but being honest (a rarity on Wall Street today).
And you guessed it – Sykes made his fortune through penny stock trading.
Not only does Sykes trade penny stocks, but he also produces things like:
Watchlists
Research
Educational videos
With this information, you can follow Sykes on his journey and learn from his mistakes and successes.
Sykes has also created over 2,100 video lessons and over a dozen instructional DVD guides.
Plans and Pricing
Tim Sykes offers TWO distinct plans at different price points.
The most popular plan is the Pennystocking Silver plan as it gives users access to not only the chatroom, daily watchlists, and real-time trading alerts…
…but you also receive daily video watchlists, access to 4,400+ video lessons, and new video lessons weekly!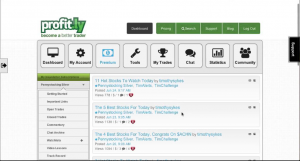 However, Tim Alert's provide great value with daily watchlists, chatroom access, and real-time trading alerts.
TIM'S ALERTS
Tim's Alerts are $74.95 per month and come with the following features:
Daily Chatroom Access
Daily 5 to 10 Stock Watchlist
Real-time SMS, E-mail, and Push Alerts
Real-time ProfiDing Trade Alerts
iPhone & Android App
Users can also choose a yearly plan and save 24% on the annual price.
PENNYSTOCKING SILVER
Pennystocking Silver is $149.95 per month and comes with the following features:
Daily Chatroom Access
Daily 5 to 10 Stock Watchlist
Real-time SMS, E-mail, and Push Alerts
Real-time ProfiDing Trade Alerts
iPhone & Android App
4,400+ Video Lesson Library
Weekly Video Lessons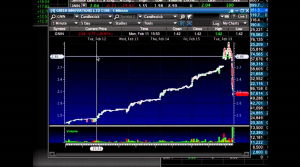 Users can also choose a yearly plan and save 28% on the annual price.
If you want to test the waters, we recommend signing up for Tim's Alerts as a standalone package for only $74.95 per month. You can cancel anytime.
Penny Stock Newsletter Summary
Penny stocks represent a good investment because they are cheap and have high return potential.
However, "penny stocks" are different than "blue chip" stocks, where picking a long-term winner is easy.
Picking the right penny stock requires extensive knowledge, research, and expertise.
For this reason, you need to find the best source of information to guide you through your investment journey.
And who better to get you started than Tim Sykes himself (we think he is legit)?
If not Tim Sykes, remember to do your own research and look for the following:
Education
Support
Free trial/Money-back guarantee
Disclosures
So, what do you think? Will you be the next penny stock millionaire?
P.s. If you are also interested in trading larger cap stocks, check out the Motley Fool Stock Advisor