Profitable investing means that you use a brokerage service that goes hand-in-hand with:
Your investing goals
Your educational needs
Your learning style
Particularly for new investors, choosing the best stock broker that fits your needs can be the difference between making money and endless frustration!
Now, I am not suggesting that any one brokerage will give you a sure-fire way to guarantee investment returns…
…but you can set yourself up for success by choosing a brokerage that suits your needs.
Keep reading because we will break down everything you should look for in your brokerage…
…from the obvious to not-so-obvious attributes of brokerages.
How to choose a brokerage
Choosing a broker is similar to picking a stock.
Fortunately, there has never been a better time to be an investor…
…competition among online brokers is fierce, which means lower costs and better services.
However, picking the right online brokerage comes down to your priorities.
These priorities can include things like:
Are you willing to pay a higher price for a top-notch trading platform?
Are you on a budget and looking for the cheapest possible option?
As such, the process begins with knowing your investing style and going forward from there.
It is imperative that you know your needs before you can begin to narrow the field.
Now, there are two types of brokers:
Regular brokers who interact directly with clients.
Broker-resellers who are intermediaries between the client and a larger broker.
Regular brokers are far more common and what you should usually be using to make trades.
These are questions that you will need to ask yourself before choosing any broker.
Additionally, here are some factors to consider in your search:
Commissions
Brokerages generally offer the same investment options (individual stocks, options, mutual funds, etc.). If your investment needs are satisfied, how much are you willing to pay in commission?
Account minimum
There are top-rated brokers with no account minimum, including TD Ameritrade, Merrill Edge, and Ally Invest.
Some brokers require a minimum initial investment (which can be $500+).
So, if you are on a budget, this will be something to keep in mind.
Account fees
Account fees are difficult to avoid entirely, but you can take steps to minimize these fees.
Most brokers charge a fee for transferring funds or closing your account.
If you are transferring to a new broker, the new broker will (and should) reimburse you.
Most other fees can be escaped by merely choosing a broker that does not charge these fees.
Common fees that brokers charge (and you can avoid) include:
Annual fees
Inactivity fees
Trading platform subscription fees
Research or data fees
Personal preference
Choosing a brokerage is really about you.
If you are a beginner, you may not need extra like an advanced trading platform (but it would be nice).
However, you may opt for education (i.e., video tutorials) and more guidance for your investments.
Many brokerages offer these services for free to account holders.
Experienced and active traders should look for a broker that can handle their needs better.
These needs can include things like trading platform, analysis tools, and high-volume discounts.
Promotions
Last, but not least – take advantage of promotions!
Many brokers offer promotions to entice new customers and offers commission-free traders or cash bonuses.
Do not choose your broker entirely on promotional offerings, but definitely take it into consideration.
Other consideration can include educational services, the ability to test the platform, and customer service.
Fortunately, we have covered all of this and more on our review of one of our favorite online brokerages.
The brokerage is TD Ameritrade, and they are one of the hottest online brokerages in 2019!
Will they be right for you?
There is only one way to find out (and that is to continue reading this review).
TD Ameritrade Overview
Founded in 1975, TD Ameritrade is one of the top discount brokerages for investors across the United States.
What can you expect from TD Ameritrade? A few things:
Competitive fees
Tons of account and investment options
Wide-range of investors resources
Highly-accessible customer support
The company provides investing and trading services for 11 million client accounts that total more than $1 trillion in assets.
TD Ameritrade clients place, on average, 500,000+ trade each day.
Most recently, the firm has spent time streamlining its website and changing its educational offerings.
If that was not enough, TD Ameritrade has brought over 3.5 million customers after its acquisition of Scottrade.
TD Ameritrade wants to give confidence to new investors and help experienced investors improve their skillset.
Their services provide a powerful range of options that appeal to a customer-base with varying levels of experience.
In exchange for their higher cost per trade (compared to other brokers) the firm delivers:
Top-rated platforms
Excellent research tools
Fully functional mobile apps
Educational resources
24/7 customer service
And much more!
These services can be used by new and experienced investors alike.
The bottom line: TD Ameritrade has the online trading platform down to a science.
So, let's take a look at what the firm does (and does not) offer.
TD Ameritrade Platform & Tools
Web trading platform
Here you can access an assortment of options, including:
Alerts
Stock screeners
Customizable web space
And more!
The platform handles all of the essential functions and is best for newer investors and investors with less extensive needs.
Access to thinkorswim®
Every TD Ameritrade investor, regardless of experience or account size, has access to thinkorswim.
Thinkorswim is an award-winning platform that is ideal for experienced and active investors.
The platform is similar to what professional traders use on a daily basis.
You can use thinkorswim to trade: equities, options, futures, and forex.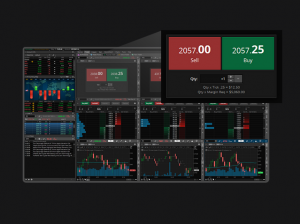 And all of this is done on a platform powered by insights, education, and a dedicated trade desk.
Why is this important?
Because these resources help you master even the most complex strategies and techniques.
Additionally, the platform supports a wide range of charts, customizable views, and analytical resources.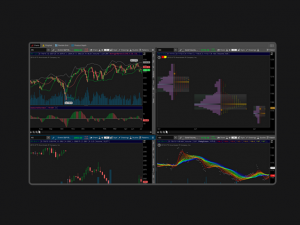 Thinkorswim has a substantial investment community, as well. Customers can visit TD Ameritrade's online chat rooms to talk to other investors about the market.
Explore the Trade Architect®
You can use Trade Architect to help you find stock and option information when and where you need it.
Here are a few things that Trade Architect can help you with:
Real-time, all the time: Trade Architect gives you your real-time account balance and live streaming quotes. With this information, you will always know what is going on with your account and the market.
Strategy chain: You can choose from over 30 one-click option strategies to help you quickly set up the trade you require.
Profit/loss graphs: You can use Trade Architect to visualize your next options trade with details price graphs to see which direction a stock needs to move (and for what price) for an option strategy to be profitable.
Practice with paperMoney®
You can practice strategies before putting your real money on the line.
paperMoney is one of the most robust paper-trading platforms available and includes a virtual margin account and a virtual IRA, each funded with $100,000.
Research Tools
Market Edge
This tool is suitable for investors of all levels and offers timely information and technical analysis of the markets. This analysis includes reports like:
Second Option Weekly for quantitative and technical information
On the Edge for in-depth, technical market commentary to help you evaluate trading strategies for different market conditions
Stocks Overview
This feature is tailored to your positions and enables you to find stocks of interest and discover potential trade ideas.
You can use this tool to monitor volume, view the day's highs and lows, and see which stocks and sectors are on the move.
Plus, you can keep an eye on what is trending on social media and the news.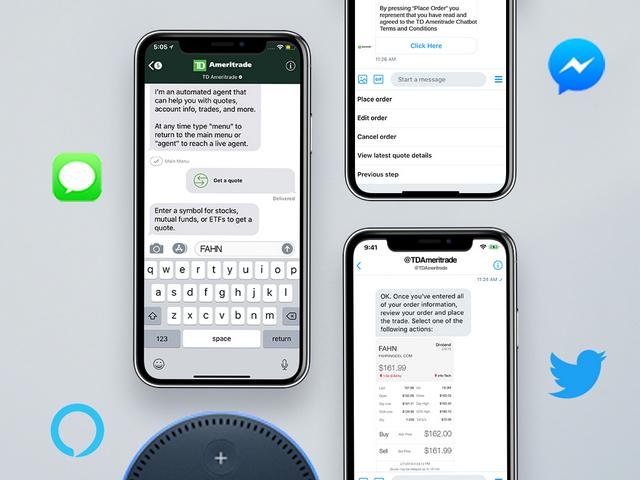 Screeners
You can find stocks, options, mutual funds, or ETFs that meet your criteria with TD Ameritrade's predetermined screeners.
These screeners are based on strong buys, lifecycle, highest alpha, lowest expense ratio, and more.
Alternatively, you can create your own custom screens.
Other research tools include:
ETF Market Center: Choose from over 300 commission-free ETFs that can help you diversify your portfolio and purse your financial goals. You can research and monitor ETFs with predefined screens based on lifecycle, commodities, bear markets, or your own settings.
Social Signals: Improve research and discover new opportunities with insights from Twitter.
Stock Charts: Spot trends and opportunities that fit your investment strategy with customizable charts. Just select the security or index and set your specific parameters for charts that have the information you need to make the right decision.
Premier List: Identify top-pick mutual funds. These picks are compiled quarterly by the experts at Morningstar Investment Management LLC and offers an objective and unbiased resources that focuses on no-transaction-fee funds across 45 categories.
CD Center: CDs offered with different choices at competitive rates, range of issuers, powerful screening tools, and free guidance to help research CDs.
Bond Wizard: Discover bonds and CDs that may help you pursue your long-term investing goals with this investment research tool. With a few answers to a few simple questions you can generate a list of potential investment choices.
Market Java: Get your daily shot of market news and insights (before the opening bell) with this daily morning-report. Learn about pre-market conditions, significant stock moves, overnight activity in international market, and more.
All of this is included in the TD Ameritrade trading platform. What more can you ask for?
Experience TD Ameritrade Mobile
TD Ameritrade's mobile investing experience needs its own section.
In fact, Barron's recognized TD Ameritrade as a top trading app for 2018.
There are two mobiles apps:
TD Ameritrade Mobile app
TD Ameritrade Trader app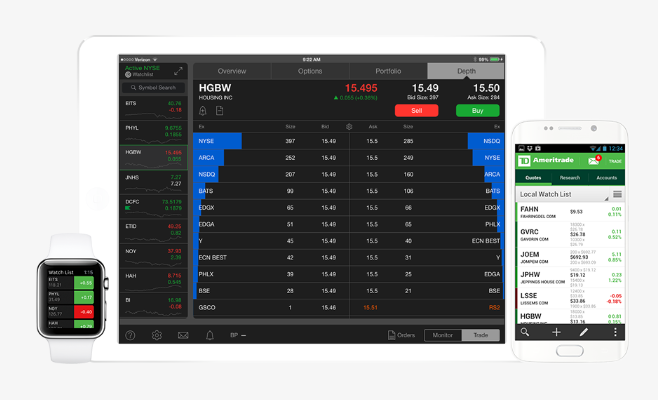 Each app has similar features to the stand and/or thinkorswim platforms.
The most critical desktop features can be found in these mobile apps.
In the app, you can monitor your current investments and overall portfolio. Additionally, you can execute trades.
The app also allows you to view investment charts, quotes, news, and research.
If you are an Apple user, you can use these apps with your Apple Watch.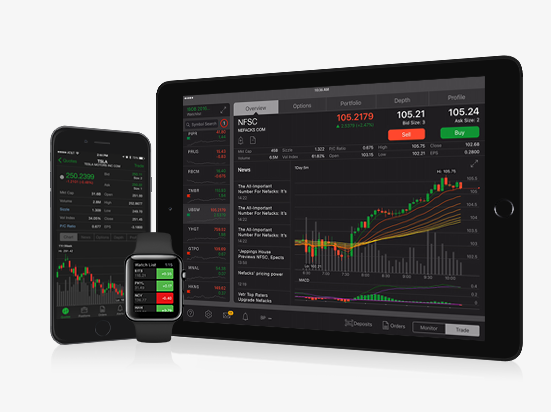 The app is also available for Android users.
TD Ameritrade Fees & Pricing
Stocks
Stock (Online) Trade Fee: $6.95 per trade
Interactive Voice Response Phone System: $34.99 per trade
Broker-Assisted Trade Fee: $44.99 per trade
Options
Option (Online) Trade Fee: $6.95 + $0.75 per contract
Interactive Voice Response Phone System: $34.99 per trade + $0.75 per contract
Broker-Assisted Trade Fee: $34.99 per trade
ETFs
ETF (Online) Trade Fee: $6.95
Interactive Voice Response Phone System: $34.99 per trade
Broker-Assisted Trade Fee: $44.99 per trade
*There are no commissions for commission-free ETFs
Mutual Funds
Mutual Fund Trade Fee (No Load): $49.99
Mutual Fund Trade Fee (Load): No commission
Other Fees
Forex & Options on Futures: $2.25 fee per contract (plus exchange and regulatory fees)
Forex/Currencies: $0.10 per 1,000 units (minimum charge of $1)
TD Ameritrade Customer Service
One of our favorite features of TD Ameritrade is the "anytime, anywhere" customer support.
Select the 'Contact Us' tab from the 'Client Services' menu to access TD Ameritrade via:
E-mail: clientservices@tdameritrade.com
Phone: 800-669-3900
Chat service, mail, and/or fax
The firm also has a robust FAQ section, which answers questions like:
What is the minimum amount required to open an account?
What is the fastest way to open a new account?
What types of investments can I make with a TD Ameritrade account?
Can I trade margin or options?
Can I write checks from my account?
Do I earn interest in my account?
If you cannot find an answer through the FAQs, you are encouraged to send a letter, call, e-mail, or fax to TD Ameritrade.
If you want to go in-person, be sure to utilize the branch locator on the firm's website.
However, client questions are fielded 24/7 and wait times are generally short.
Who is TD Ameritrade Best For?
TD Ameritrade charges higher fees per trade compared to some of its competitors…
…but they make up for it with an excellent trading platform and top-notch research offerings.
With these tools – you may find that TD Ameritrade is worth the extra money.
So, who is TD Ameritrade best for, anyway?
We like the platform for moderate to experienced investors.
TD Ameritrade offers many features, analytical tools, and research options.
For new investors, this slew of features may be slightly overwhelming.
Additionally, new investors may not have the knowledge to utilize these features.
With that said, TD Ameritrade is making efforts to streamline content and platforms…
…so, in the near future, it should easy for anyone to use.
Sign-up for TD Ameritrade
At this point, you may be asking…
…how can I open my TD Ameritrade account?
The fastest way to do this is by visiting the TD Ameritrade website and open and fund your account online.
You can begin trading most securities the same day your account is opened and funded electronically.
Additionally, you can speak with a 'New Client' consultant at 800-454-9272.
And remember – you can reach these guys 24 hours a day, 7 days a week.
Bonus Offer: Join TD Ameritrade today + Trade commission-free for 60 days.
What We Love about TD Ameritrade
Thinkorswim platform
To recap, this platform is on par with professional traders use every day.
User-friendly platform
The platform is streamlined (and getting better) and easy enough for most investors to manage.
Excellent customer service
TD Ameritrade has branches (360 locations in the U.S.) in most major metropolitan areas. Additionally, many customer service options are available 24/7. This level of customer services tends to win over clients that are seeking the comfort of superior customer support.
No minimum account balance
There is no minimum balance requirement which means anyone can open a TD Ameritrade account.
What We Don't Love about TD Ameritrade
Higher fees
Higher commissions compared to other online brokerages.
Is TD Ameritrade Right For You?
As one of the largest discount brokers, TD Ameritrade provides a "one-stop shop" for traders and investors.
Because of the wide-ranging appeal of its services, TD Ameritrade should be considered by all investors.
The thinkorswim web and mobile platform should be on the short-list for experienced investors.
On the other hand, if you prefer a more straightforward approach, TD Ameritrade's online and mobile offerings should be sufficient.
The main complaint on TD Ameritrade is the cost, but you get what you pay for.
TD Ameritrade delivers quality content that many would consider worth the extra money.
What do you think – is TD Ameritrade right for you? Which online brokerage do you use to invest?
Let us know your thoughts with a comment below!
And don't forget, if you Join TD Ameritrade today using this link, you'll get to trade commission-free for 60 days!
TD Ameritrade
FREE
Commissions & Fees
8.0/10
Investment options
10.0/10
Pros
Can be useful for beginner and advanced level investors (but better for advanced)
A user-friendly platform that is improving
Available and excellent customer service 24/7
No minimum account balance
Cons
Fees are higher than other similar competitors
Amount of different tools and resources can be overwhelming